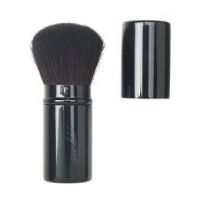 Great for travel

What I like about this brush compared to other travel brushes is that it comes in a tube with a cap. This means that you don't get residue blush or powder on the inside of your purse. the brush stays soft and I haven't had any problems with the tube mechanism.

My least favorite brush

I have had this brush for a long time, it's actually my second. I've kept it because it fits in my makeup bag perfectly when I need to reapply blush. However, this brush sheds like crazy! I always always have hairs all over my face (not to mention all over my cream blush). When cleaning it, so many of the bristles end up all over the towel. It's not that soft, actually pretty prickly, but the fact that it's small and it has a cap, makes it convenient. Still not my favorite brush.

the only brush you will need!

I have had brushed in the past that have come with my mineral makeup, and the hairs are constantly falling out. This is not a problem with this brush. Not only is it incredible soft, and great quality, but ultra portable too. I use this for loose mineral foundation, loose blush, and finishing powder. It is the right size for the foundation and finishing powder, but still not to big for blush. Just perfect!

Back
to top