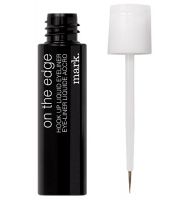 Easy to put on

It can be a task for me to put on liquid eyeliner, but I love this. To help me, I just think of my face as a blank canvas, then I start painting on the color

Easy to use

I am a klutz with liquid eye liner, but I am a big fan of this one. The brush is small enough that I don't have a hard time getting the line to be as thin or thick as I want. The smaller size makes it easy to get in close to the lash line as well. After applying you do have enough time to smudge or fix without having to break out the eye makeup remover and start over. When dry it doesn't smear and lasts quite a long time, even in humid weather. I just wish Avon/Mark had more colors.

Hard to use.

The brush is so tiny, that even a small flinch will screw up your line. The formula is nice, opaque, and long lasting. I like that it's convenient and comes in nice colours other than plain black. If it wasn't so hard to use, I would be a regular buyer of such a good deal.

Back
to top