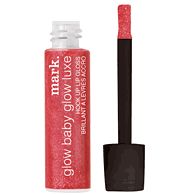 not for me.

the gloss was goopy, and messy. and it had too much shine/sparkle for me.

Perfect amount of color to lips

The Mark Glow Baby Glow (Luxe) Hook Up Lip Glosses, are one of my favorite lip glosses, they are not sticky at all, they are very light weight, and they provide a nice hint of color. They come in a variety of different shades, all of which can work well with any skin tone, simply because the colors are pretty sheer. Every color does have a tint of shimmer (some more than others) however the shi...read moremmers are very minimal which is why you can use these lip glosses for any occasion, whether you're going out to a party or to work. What I like to do is wear these glosses over a matching lip stick, it definitely gives the look some vibrancy, and offers the lip stick some extra shine. It's very easy to control the amount of product you are applying, simply because of its sheerness, also you can add additional layers of product to increase its color and its intensity. The lasting power is pretty comparable to other drugstore lip glosses; within a few hours additional applications will have to be applied if you do want to maintain a vibrant color. The lip glosses do have a slight minty flavor and scent, however it is very bearable and hardly noticeable. The Mark Glow Baby Glow (Luxe) Lip Glosses retail for $6.50 and can be purchased directly from Avon.

Best lip gloss ever!!!

I have this in Pink Crush, the most universal pink gloss that will look good on anyone. I don't leave the house without putting it on.

Back
to top