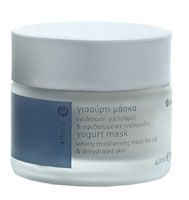 Heaven in a jar for dry skin

If you have combo or oily "dry" skin, this mask will do wonders for your skin! It is so creamy that it feels like it should be clogging your pores on overdrive, but all it leaves you with is soft, beautiful, glowing skin. I use this with the yogurt moisturizer and get glowing skin with no oil slicks from either a too heavy moisturizer or flakes from not enough moisture. My hubby loves how soft and clear my skin has become!

Just meh...

I had high hopes for this mask, so maybe that is why I don't feel it's that great. It has a very gross texture going on. It does leave my skin soft, but not anything spectacular. I don't notice any difference in how my face looks afterwards or the next day. Just so-so.

Perfect Mask for Dehydrated Skin

I've been using this mask for a few weeks and it is fantastic. Its great for replenishing moisture, and there is a noticeable difference in the hydration level and softness of the skin after just 10-15 minutes. My skin is not particularly sensitive, although I do need to avoid mineral oil and silicone in my skincare products. Thankfully, the entire Korres line is free of those two ingredients. T...read morehis mask is perfect for someone with oily or combination skin, who an needs extra boost of hydration, but whose skin wont tolerate a heavier mask. I have worked in the cosmetics industry for five years and tried a ton of different masks and this one is superior by far. For the sake of comparison, take the two masks made by Laura Mercier. One is a lightweight gel mask, the other is a heavier, creamy moisture mask. Both are wonderful products but my skin ideally needs something in between. The Korres Yogurt mask is perfectly "in between."

Back
to top