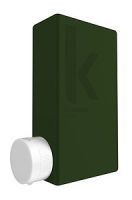 Kevin Murphy Maxi Wash
As low as
Best product I have ever used

Great results, hair felt very clean afterwards

Detox & Exfoliate Maxi cleanser

I have worked with the Kevin Murphy Hair Care and Styling line for a year now and it does it's part. The Maxi wash is a great cleanser that doesn't stripe, dry, or damage the hair. With it's essential oil and extracts Maxi deodorize the hair and scalp, exfoliate the hair with coconut cleansers, and detox from iron and chlorine. Tips: when using maxi wash, massage the scalp to remove dry skin, odor...read more, and increase blood flow (without clumping or ruffing up the hair), with the remanding hair pull the shampoo through(this is the most important part in using KM shampoos and conditioners) with your fingertips (this keeps the cuticle laying in the direction it grows, smooth and shinny). Keep pulling the shampoo through with fingertips until rich lather. If the hair is full of buildup, you might have to do more than two shampoos. Follow with a "hair type" shampoo and conditioner using the exact same technique.

Back
to top