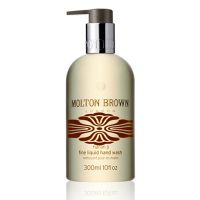 Editor's Rating & Review
Whaaa? $23 on hand soap? You might be able to rationalize the splurge if your hard-working hands really deserve a treat. This wash comes in five scents and is "soap-free" so it leaves skin feeling clean, but not dry. But we're crying foul because the packaging implies the wash reduces fine lines when there's nary a retinol or alpha hydroxy acid in the ingredient list. And, hello, it's a wash, so any anti-aging property goes down the drain.
Reviewed by the Total Beauty editorial team on 09/25/2007

How we review products
i tried this from a friend

i cannot justify this cost. but it worked good. if you want to spend the money.

Intoxicating Fragrance

I discovered Moulton Brown's Naran Ji hand wash whilst visiting London years ago. It was in the restrooms of the finer hotels. I immediately felt a soothing calm come over me when I inhaled the fragrance. I bought a bottle at Selfridge's to bring back home to the United States. I still have one partial bottle left - only use it for "special occasions" when I need stress relief. Unfortunately, it appears that Moulton Brown no longer makes this fragrance. What a shame!

Disagree with Editor Review

The quality of Molton Brown products is far superior to any product with anti aging claims that contain AHA's or retinols. Products that are soap free clean the skin well and help the skin to retain it's natural moisture balance which is why skin begins to age in the first place. As the skin ages, the skin's ability to shed dead cells causes the amount of moisture we retain to lessen. Without m...read moreoisture, the skin begins to look dull and loses its luster. Products with AHA's and retinols can continue to harm the skin if the moisture balance is not retained as these ingredients can cause the skin to over exfoliate. The lack of soap in a product does make it anti aging!

Back
to top