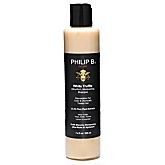 miracle shampoo

This stuff really is nothing short of a miracle, and if you have fifty dollars to spend on shampoo you wont regret this purchase. The only reason that I was able to try it was a half-off sale at the Beauty Store. Believe me I saw results with this stuff, it was worth every penny (well the price was right too). People gave me compliments and my entire family noticed a difference. The best part is that it works so well you only have to wash your hair once a week!

Nice but Pricey

Ouch! This is a wonderful shampoo-really it is. But I just cannot justify spending that much on something you use every day and go through that quickly. Not to mention that you wash it down the drain. It is very nice but cannot justify the price. Too bad.

pricey but good

this shampoo is super pricey and i would never pay retail for this, but i got it back as a return at my store and the manager asked me if i wanted it. it was a $55 shampoo and so of course i wanted to try it. it had only been used once! and i really like it. i have chemically treated hair and it makes it super smooth and shiny. it doesn't smell too great, but i can get past that!

Back
to top