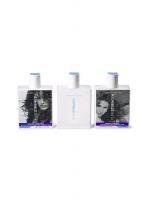 Warren-Tricomi PureStrength 3-Piece Set
As low as
TRICOMI WORKS

I have long black hair, very meticulous about hair care and skin care, only two vendors so far that brought my dead ends to life and hair feels, looks and is fuller. It bounces and everything! LOVE THESE PRODUCTS...Warren and Tricomi did an outstanding job, I use all of their products including accessories.

Who knew a middle step was needed?

The Cleanse, Close and Condition systems come in 3 varieties for Fine, Dry or All hair types. I tried the formula for Fine hair. I like the rectangular bottles - not necessary to how the product works, but they fit nicely on my shower shelf. The shampoo and conditioner have a light floral scent and contain lots of botanical ingredients. All of the conditioners contain an SPF to help protect yo...read moreur color. The shampoo got my hair clean and the conditioner was light and left my hair smooth. The Close step was weird, but worked well. I say weird, because it looks like hair gel, but isn't slick or sticky. It didn't slide through my hair like I expected, so I had to be carefully to run my hair down my hair before massaging in as directed. It rinses out clean and my hair felt the same as after shampooing. The system really showed it stuff, though, after styling. My hair definitely lay smoother after blow-drying. And was less frizzy after letting it air dry (without any product that is - I definitely need product but wanted to see how the 3 step system performed on its own). I definitely noticed a reduction in split ends and an increase in work productivity - no more mindless split end picking. I also noticed that use of this product really helped keep the split ends at bay after a trim. Since my hair is thick and tends to be frizzy, I didn't notice the benefit of body that the fine shampoo imparts. But that is good to know for people with fine hair that tends to be limp. This product is a great way to get the benefit of a formula to repair your hair, without the weight of heavy conditioners.

It works

Warren Tricomi PureStrength set tackles your dry, lifeless locks and does wonders to your locks leaving them shiny, manageable, and healhy.

Back
to top