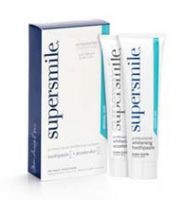 Works Wonders!

My mom took an antibiotic when she was pregnant with me; I have very little enamel, just dentin (the second layer, which is yellow by nature). I have spent the greater part of my life mixing baking soda and peroxide to try to gain confidence in my smile. As far as anything can whitens, this toothpaste/gel system works wonders! My yellow is a lighter yellow (hey, I've come to accept that my teet...read moreh can never be white unless they are bonded). I've bought this over and over again. My teeth have a very clean feel, my breath is freshened, and I look more "normal."

super clean

i saw no whitening at all, but my teeth are very white anyway. i got this b/c the website is so scientific, all like, loosens the pelicle, which is good for teeth and keeps you extra clean....i do think it cleans your teeth better than other toothpastes without being too abrasive at all. i got some that was lemony form them. i like that. i dont like mint!

Supersmile didn't make my teeth super

I used this for a good couple of months, everyday. My teeth are not that stained so I was looking for something to freshen up my teeth color. This might have whitened slightly, but I would have never been able to tell. The brushes are so hard (that come with this kit )I could have used a hair brush to get the same effect. Not worth it.

Back
to top