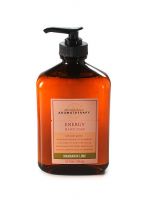 awesome

this is a great product, I'm a junkie when it comes to this hand soap I wash my hands a good 20 times a day whether I need to or not just to use this.

Lovely

These are rich and moisturizing. I love the scents - they are a bit more complex and adult than the classic BBW scents.

Great hand soap - my favorite: Eucalyptus Spearmint!

I love their Eucalyptus Spearmint Aromatherapy hand soap! We usually wash our hands with cheaper drug store brands hand soap like Dial and Soft Soap. We keep this bottle in a guest bathroom, but I occasionally sneak in there and wash my hands with this soap. It lathers well. Something about the minty scent makes my hands feel extra clean! I need to use hand lotion afterward though since this is not moisturizing soap. I love the simple yet elegant bottle and label design.

Back
to top