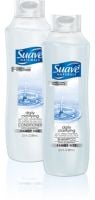 Editor's Rating & Review
This bargain brand clarifier has a nice lather, but we didn't love how much it stripped hair squeaky "clean." The good news is, it doesn't dry out your scalp. If you have serious product build-up, this is a budget-conscious solution for getting deep-down clean. But it can leave most hair types feeling highly stripped and wiry. Other downers: The plastic bottle buckles with use and the formula smells like a cheap scented candle.
Reviewed by Kristen on 10/03/2007

How we review products
Best Hair Value Ever!

Don't let your money go down the drain when you rinse. Use this shampoo!!! It is so practically free and is as good as any other brand out there (even expensive salon ones). It cleans and rinses gently and thoroughly. I have very sensitive allergy prone skin and baby fine, straight hair, and a moderately oily scalp. I use it every day. My hair looks great-clean, shiny, and healthy-with this produ...read morect and no skin reactions. It have has a light star anise like fragrance which is okay. The fragrance is neutral enough to be completely covered by your other hair products.

Fantastic

Good Stuff!! Great product to get rid of hairsprayand all chemical build-up. Can't beat the price

Squeaky Clean

This shampoo is cost effective but it strips hair of all oils including the good ones. I need to do a grapeseed oil treatment after to make my hair smooth and silky.

Back
to top