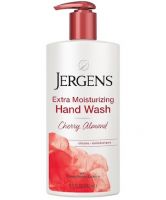 Not enough moisture or smell...

This product is just okay.... It feels moisturizing when using, but afterwards my skin felt a little tight. I love the Cherry Almond smell, but it isn't enough. When my boyfriend used it, he didn't even know there was a smell to it. You really have to intentionally breathe DEEP to even catch a whiff. In my area, it is hard to find, which is a negative.

The scent of nostalgia

A long before a liquid hand soap by the Bath and Body Works or the Body Shop, this hand soap was the great smelling andmoisturizing liquid soap for me. Several months ago when I got a Jergens Cherry-Almond moisturizer, I remembered about their hand soap version. I went to see a hand soap aisle, but could not find it. It seems to be not all the retailers carry this soap anymore. I finally found one...read more. The package design was different, but the scent was still the same. It lathers and cleans well without drying the hands. Maybe because I grew up with this, I like this one more than Dial or Soft Soap liquid hand soap. It is hard to find this product, and i makes me wonder if it is going to be discontinued. The scent gives me a nostalgic feeling.

Affordable Classic

I love this cherry almond scented hand soap. This may sound silly, but did you ever notice how some public bathrooms (like in a nice restaurant) have the really nice, yet standard smelling soap? I'm pretty sure whatever they are using is closely related to this stuff. I adore this scent, and I feel like this soap does a good job of cleansing my hands. I don't feel that it is particularly drying or...read more moisturizing to my skin. I also appreciate that it's not antibacterial. I spent a term in collgege doing research on the performance of antibacterial handsoap vs. non-antibacterial handsoap, and the conclusion that I came away with is that vigorous hand washing with regular soap removes the same amount of germs that antibacterial soaps kill- and regular soap is much better for the environment, and can be better for you. Since that project, this has been one of my favorite soaps! And heres a tip, sometimes I find it at winco for ninety nine cents a pump bottle! Highly recommended!

Back
to top