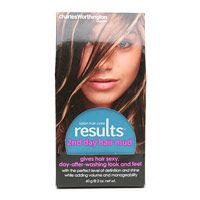 Charles Worthington 2nd Day Hair Mud

I love this product! It gives my limp hair so much volume. Yep it's messy but the results (no pun intended) make up for that. My only problem is trying to find it again. Can't remember where I bought it and I have checked around with no success. I refuse to order online.

I agree with SexyLadyIII: don't like Charles Worthington products and this one is the worst.

I don't usually dislike a product this strongly, but this 2nd Day Hair Mud is one of the worst. I hate throwing away products, but this one is going in the trash after 3 attempts on my part to make it work.

Old silly putty

Actually another reviewer thought it might be old deodorant repackaged - that is more like it. Awful stuff. Would try warming it in my hand if I could ever get it out of the container! Odd fragrance, not really bad but not the way I want my hair to smell.

Back
to top