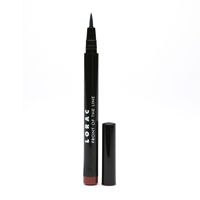 Dries up like the Sahara

The color, consistency, texture, felt tip pen applicator, and easy to carry around packaging are great, this bad boy dries up so fast. I used it every day for probably 2 weeks, never left the top un-clicked, and it dried up on me. There are a lot of liquid liners out there, and as far as comparison goes, this didn't completely blow me away. It was fine, but having to buy a new one every 3 or so weeks seems totally preposterous. Oh well.

i agree

i agree with the comment before me. it is a wonderful product, stays on great (my eyes water a lot), but the tip dries out so fast! i would give it a 10 if Lorac changed the packaging.

Can't believe stores are still selling this item

I personally prefer a felt tip for liquid eyeliner, it seems to be easier to manage. This particular eyeliner is terrible, for $20, you would think it would last. This eyeliner does not last, it does not have the ball bearings to shake up the formula because it is all in one felt strip thus it does not last more then say, a month. $20, really? The color is not lasting, not waterproof, and the cons...read moreistency is wax like. Coming from a felt tip, you can imagine the quality. PLEASE DON'T WASTE YOUR MONEY!!!!

Back
to top