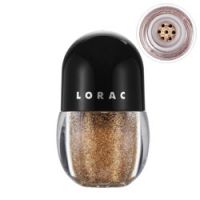 LORAC Glam Rocks
As low as
ROCKSTAR

These shadows are GORGEOUS! You will definitely look like a rockstar if you wear them. LOL. The color and shimmer are sooo pretty. Only problem is that it can be a little messy to put on (but what loose eyshadow isn't!)

Taking your look to the next level.

If you want to take the look to the next level, then you need to add LORAC Glam Rocks. I am afraid of loose products, especially those with shimmer. But with this one ins a small shaker top format, using a small shadow brush or eyeliner brush, it is not too bad. Use Metallic Copper, a beautiful loose powdered coppery bronze shadow as an eyeliner by dipping a damp brush in to the top of the shaker, or dabbed into the inner corners of your eyes, by using your fingertips.

Back
to top