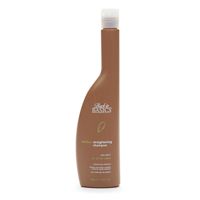 Editor's Rating & Review
Straightening? This shampoo doesn't contain any chemical that could actually do that. But it is incredibly smoothing -- a great way to start off the perfect blow-out. Not sure how the bamboo "adds flexibility" (isn't bamboo a sturdy stick?), but the formula has a pleasant scent and leaves wavy and curly hair virtually frizz-free. The oddly shaped, long-neck bottle isn't travel- or shower-friendly (it topples easily), but you'll like it enough to finish it anyway.
Reviewed by the Total Beauty editorial team on 09/21/2007

How we review products
i like it!

this stuff is great!

YOU HAVE TO TRY THIS

WELL I LOVE HOW THIS SHAMPOO MAKE MY CURLY HAIR FEEL MANAGEABLE, SOFT, I RECOMMEND THIS SHAMPOO GOOD VALUE FOR IT MONEY MY HAIR LAST FOR ABOUT A 6 DAYS OF SOFTNESS AND SHINE LOOOVE IT

okay

I have naturally straight hair which doesn't have much body. It's also a little frizzy. This shampoo made my hair limp and dry, but it was really really straight. If you've got frizz problems, this may be the way to go.

Back
to top