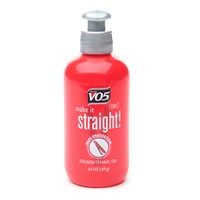 HONESTLY BEST STRAIGHTENING GEL ANYWHERE

Ladies, I have wavy hair though I was born and had ultra straight hair as a girl thru my pregnancy at 21, when my hair up and became completely wavy in a not cool or good way; I then began years of blowdrying and straightening minus any good products until I found this one by accident a few years ago, it makes my hair pin straight in a matter of minutes and I have very long hair, I use a regular c...read moreonsumer brand blowdryer and a boar bristle brush and it makes my hair STRAIGHT, silky and looking like a TV ad, and my hair is color treated. I can not recommend this enough and don't get why Alberto Vo5 either discontinued it or stopped selling it in US stores like Target where I got mine. I'm dying to find anything as superior and inexpensive as this terrific product. It smells great, isn't sticky and hair is soft and flowy like a TV ad. It's better than any other product for this purpose.

why cant I find this product?

By accident I bought VO5 Straight! I have a very good result using this product and now I am on the last drop. I have looked in every drug store, department store for this prodcut but can find any. Did you guys take this out of the market? Please I want to order some if you no longer offer VO5 Straight in any stores. Respectfully yours, Tessie Fernandez

Really good stuff

I use it everyday-and I dont even use a dryer or straighting iron. I place on my wet hair and brush it thru several times and let it air dry. It smoothes out the frizz and the waves and keeps moisture on my dry hair-without stickyness or tackyness.

Back
to top