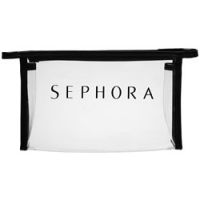 Well worth the investment

I consinder myself a messy person when it comes to pack makeup products. I just want to put them in a bag. Sometimes I spill a liquid foundation or forget to put caps on pencils/lipsticks. This makeup bag is great for my travel bag and gym bag. Along with the cheap price, I like that this plastic bag is clear. I can see what's inside. Unfortunately, it is not very durable. Well, that said, $4 is well worth the investment!

Easy on the price tag

For a low price, this is a pretty useful bag and easy to find your items in. Also, if you shop here, it also lets people know where to find your personal goods. I've had this for about three months and it's holding up and usually carried in my handbag. I just dislike that it's so clear, any dirt or trace of marks are easily seen so this bag does have to have cleansed regularly for a neater appearance just as any clear container.

Great for Handbag Organization

I wouldn't say that I am OCD, but I do like an organized handbag. In addition, I change handbags faster than Hollywood changes husbands. The clear bags let me see what I've got going on in my handbag. I have one for cosmetics, one for receipts and change, and one for a small camera, my cell phone, and extra keys. For the price, when it starts showing wear, I just toss it and buy a new one.

Back
to top