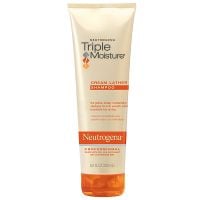 Renews and Revitalizes Over-Worked Hair

I agree with "Kenya" below that this shampoo lathers well--so well that you do need less than you do with other shampoos. The shampoo is a creamy, luxurious formula with a delicious smell. It is ultra-gentle to hair, especially hair which has been colored too often, treated harshly, or over-processed in any way. It contains panthenol as well as olive, meadowfoam seed, and sweet almond oils to n...read moreourish, moisturize, and repair. Generally after shampooing, my hair is like dry hay, and running a wide-toothed comb through it is difficult, if not impossible. Neutrogena's "Triple Moisture Cream" leaves it soft, smooth, manageable, and easy to style. I have also noticed a sheen which I don't have without it. This is an excellent product, especially for about $6.00.

leathers well

I like this shampoo because you don't need a lot to get a nice lather, so I save money by using less product. I like the scent and it definitely leaves my hair softer and ready to be conditioned.

not good

Usually it is easy to please my hair, or at least not to make it unmanageable, but this shampoo did the trick. I can see how people with extremely coarse hair and way too much volume might like it, but this doesn't for my normal long hair. It definitely killed ALL the volume and my hair was impossible to style on top of that! Plus the price is too high for this kind of quality. Will not buy again, since bad effects outweigh the good ones.

Back
to top