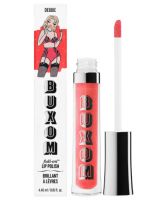 Editor's Rating & Review
Most plumping lip glosses don't truly enlarge lips. If they did, celebs wouldn't flock to plastic surgeons for filler injections. This stick-free, ultra-shiny gloss does give a cooling effect that makes you feel like something's happening (it does contain a ceramide that helps boost natural collagen production), but it's not so spicy or tingly that you feel bee-stung. The biggest complaint is about the packaging, which is larger than normal but doesn't actually contain more product -- very deceiving.
Reviewed by Kristen on 10/05/2007

How we review products
Absolutely Augments My Lips!

I love the range of shades available, but my favorite two are "Clair" (diamond/moonlit mauve) and "Starr" (diamond/raspberry ice). There is definitely a "plump" quality when I wear this. I love the shine, the lack of tackiness, and the tingling feel. Great product.

Buxom buxom big and healthy lip stick

This really plumps and imparts great color. Carmindy, the makeup artist, said this is one of the best multi-taskers. I was already pleased with this before I read Carmindy's article. What I also like is that it doubles as a lip liner and there is a lot of product. I also like that it is made by Bare Essentials.

Nice!

I have 'Destiny' which is a mauve with a golden sheen in it. It goes on beautifully and smoothly, and it doesn't get sticky. I think it does something to plump as it says. I love the tingly feeling too. Sometimes it can get too intense, so watch out if you don't like intense tingle, although I personally like it.

Back
to top