Mary J. Blige's fragrance, My Life, Breaks Sales Records on HSN
Posted on August 3, 2010, 3:08 PM
The Grammy winner's new scent, My Life, breaks HSN sales records and outsells even Diddy!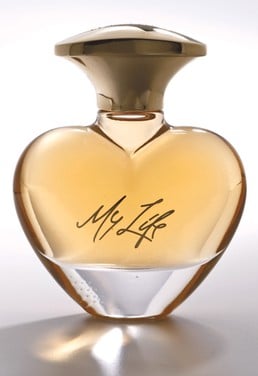 Mary J. Blige's fragrance, My Life
This past June, nine-time Grammy winning solo artist, Mary J. Blige, announced that she would be launching her first
fragrance
, titled My Life, but this past weekend, Blige topped another chart with the record-shattering sales on HSN.
Over the weekend, Blige made HSN history with the on-air debut of My Life perfume. The singer sold over 50,000 bottles, taking the record as HSN's fastest selling and most popular fragrance to date. Retailing at $55 a bottle, My Life grossed an estimated $2.7 million dollars as a result of the series of live on-air Saturday TV spots. The singer showcased My Life and even received live phone calls praising the famous singer and her scent from other A-listers like Oprah Winfrey and Naomi Campbell.
Excited by her success, Blige thanked her "Twitter fam" and expressed her gratitude. "Fam!! We did it!! We broke records with My Life fragrance on HSN! And made history once again!!! 50K sold!!!" Blige tweeted. "Thank you so much!!!!!!! What an amazing support system!!!! You guys are the best!!!!!!... You saved so many lives and dreams tonight with your purchase!!! So many women will be getting the second chance they deserve!!! FFAWN...Thank You HSN for the love and support you showed me and my fam!!!!!! We really appreciate it!!!!!!"
Sean "Diddy" Combs previously held the record with his I Am King fragrance for men for the most sales ever on HSN but Blige couldn't be stopped. In addition to Blige's entry into fragrance, the singer's FFAWN (Foundation for the Advancement of Women Now) organization also benefited from the sales of My Life. A portion of the proceeds ($1 per bottle) went to FFAWN, netting $50,000 for the non-profit charity.
Despite taking over the title as most popular fragrance ever from Diddy, Blige didn't always expect perfume to be in her future. "I wasn't always info fragrance," she told PEOPLE. "I wasn't even into makeup when I was young. I started getting into makeup and perfume when I was about 18 or 19 years old. I had some really bad perfumes until I found one that I loved." The finished scent, a juice that includes notes like gardenia petal, bartlett pear, tuberose, jasmine and cashmere woods, is housed in a gold-capped heart-shaped bottle that's very Mary J.