Actress Kate Walsh Launches Boyfriend Perfume
Posted on October 16, 2010, 12:58 PM
Kate Walsh is launching her signature beauty line called Boyfriend. The man scent meant for women's perfume is an intriguing concept. Would you buy it?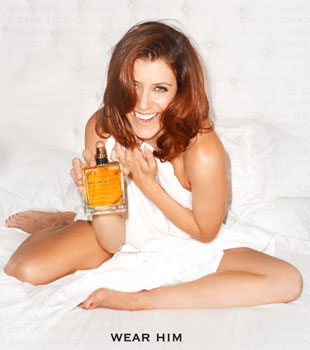 Actress Kate Walsh Launches Boyfriend Perfume
What can change your light bulb, give you a hug, and leave you with the most addicting scent? A boyfriend, duh.
And though you can hire a mechanic to change your light fixtures, and hug a pillow at night with your eyes closed tight, when the boyfriend goes into the ex-files, his lingering scent just can't be replaced -- until now. Kate Walsh, star of "Private Practice," is launching her own beauty line called Boyfriend, inspired by her lack thereof.
Several years ago, after a crashing breakup, she was undergoing the all-too-familiar breakup recovery when she thought, "I really miss his scent."
"So I went to fragrance counter and bought a men's fragrance and went, 'Wait a minute, you don't need a boyfriend to have a Boyfriend," she remembers. "All these ideas just wouldn't leave me alone. So many women I know wear men's fragrances, and what really appealed to me was the idea of the boyfriend story. Everyone has one to share."
It's true, the best of us have had our hearts broken by some undeserving man and we cried about it over tubs of ice cream to girlfriends with "How to Lose a Guy in 10 Days" playing in the background. To help recovery, Walsh introduces a
perfume
that smells like your lost love. Now with boyfriend jeans, the boyfriend flannel and Walsh' Boyfriend perfume, who needs a man?
Boyfriend will debut on the Home Shopping Network on November 11.at 8 PM EST. It comes in a five-piece kit including a 15 ml. eau de parfum spray, pulse point oil, dry body oil, body cream and a votive candle all for $79.99. The second fragrance of the line is expected to launch in a year.
-- Sharon J. Yi