Miranda Kerr is in Labor
Posted on January 7, 2011, 11:38 AM
The Australian super model and her husband, Orlando Bloom, are in the delivery room of a Los Angeles area hotel.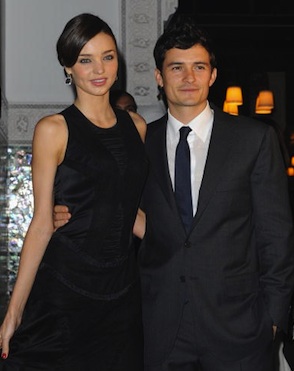 Parenthood is imminent for Miranda Kerr and Orlando Bloom
UPDATE: 2PM, PST: According to gossip site x17, a photographer overheard Orlando Bloom talking about his new born son today. We'll continue to fill you in on the details as they become available.
2011 is about to get very exciting for expectant parents Miranda Kerr and Orlando Bloom.
The Australian supermodel and her actor hubby are reportedly holed up in a labor and delivery room at a Los Angeles hospital.
As a member of her family told the British press, the 27-year old mom-to-be began having contractions on December 26th. "We did get a text on Boxing Day saying she had gone into labour but it was false alarm, but I can confirm she did go into labour early this morning."
Reports have also surfaced that her parents are by her side in the L&D room. Stay tuned for details of the birth as we get them...
And, in the meantime, you can take a look at the beautiful
cover she did for W magazine
when she was seven months pregnant and wearing barely there
makeup
and nothing else. Beautiful.