Will Chelsea Clinton Opt for Natural Makeup on Her Wedding Day?
Posted on April 27, 2010, 11:15 AM
Chelsea Clinton has kept mum about her wedding details thus far -- the former first daughter hasn't spilled any plans for her wedding hairstyle or her dress -- but she did debut her gorgeous engagement ring over the weekend.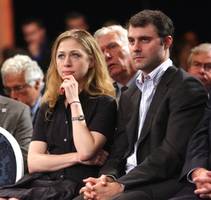 Chelsea Clinton chooses natural makeup
Unfortunately, the lovely lady also showed off another accessory. Clinton, who recently broke her heel, was forced to walk the red carpet in a cast and with the help of crutches!
Though we're sure that she'll be healed in time for her wedding (which will be this summer), we hope Clinton stays true to the
natural makeup
look that she's been sporting in recent months.
The bride-to-be has
healthy skin
and a beautiful glow, and we hope that she doesn't cover that up on her big day with too much dramatic makeup!
The 30-year-old and her fiancé, Marc Mezvinsky, 32, announced their plans to wed this fall. The pair has known each other for much of their lives.