Uma Thurman's Makeup Mishap
Posted on October 21, 2010, 1:02 PM
Borrowing a page from Nicole Kidman's faux pas past, the leggy actress has an embarrassing powder makeup moment of her own.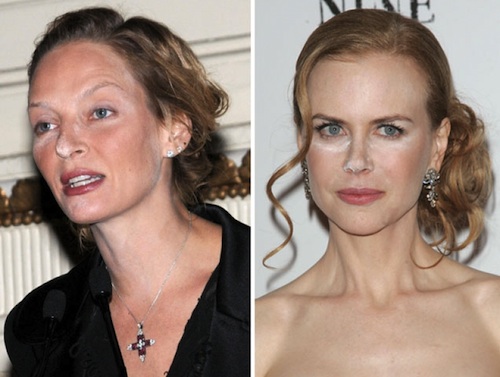 Uma and Nicole and Their Errant Powder Puffs (Photo: Access Hollywood)
Ahhh, the perils of being a movie star. You get to go to the best parties, wear the prettiest clothes, get your hair done and have your very own
makeup
artist standing by to make sure you're pretty as can be. The hitch? Makeup people are just that -- people -- and people make mistakes. Especially in the heat of the moment, when everyone's rushing to make it to a red carpet on time.
Just ask Uma Thurman. Apparently, that's precisely what happened Monday night in New York as the actress smiled for the cameras at The Feminist Press at the City University of New York's 40th annual gala -- and had more than a little powder dusting her otherwise porcelain complexion. (Aw, let's face it, she kind of looked like she'd been baking bread moments earlier.)
Thurman, 40, who was a special guest of the evening, which honored "40 Feminists under 40," isn't the first celeb to appear before a room full of photographers with a less-than-picture-ready face. Nicole Kidman walked the red carpet at the premiere of her musical, "Nine" last December with much the same look. Perhaps the powder only seems this obvious under bright lights? Perhaps both women were in dark limos getting their makeup done till the very last moment and didn't take time to check it before making their appearances?
Whatever the reason, clearly, in both cases it was an unintentional gaffe, and both actresses are grown women and equipped to deal with a "scandal" such as this. We're just wondering how the makeup artists feel (and whether they're still gainfully employed.)