Makeup Free Mondays -- Will You Embrace Them?
Posted on May 19, 2010, 4:29 PM
One of the latest trends among celebrities is to go makeup-free. Kim Kardashian and Jessica Simpson have posed in magazines sans-makeup, and Kathie Lee Gifford and Hoda Kotb went bare-faced on the air earlier this week on the "Today" show.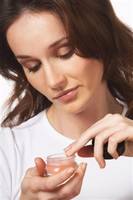 Are Makeup Free Mondays a do or a don't?
And, though it's clearly a big deal for celebs to skip the makeup chair, it's not easy for the little people, either!
Many women feel self-conscious or unattractive if they're forced to dash out into the world before applying their makeup. However, a new movement, Makeup Free Mondays, is working to make women feel more comfortable going au natural.
Many of those who are participating in the trend are tweeting pictures of themselves fresh-faced on Monday mornings.
We think that it's great in theory, but we're not sure if we'd be willing to forgo our lip balm and eyeliner just yet! However, the idea of getting some extra shut-eye instead of primping in the morning is enticing.
What do you think of this trend -- is it here to stay, or merely a passing fad?