Eva Longoria, Ke$ha, Katy Perry Rock Purple-Carpet Style at MTV Europe Music Awards
Posted on November 8, 2010, 1:08 PM
A cavalcade of stars entertained the packed house in Madrid, Spain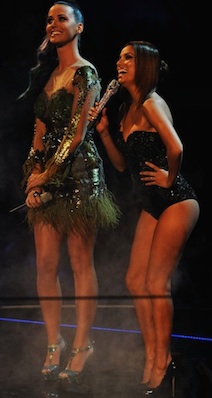 Eva Longoria, Ke$ha, Katy Perry Rock Purple-Carpet Style at MTV Europe Music Awards
Last night, Eva Longoria Parker left Gabrielle Solis back on Wisteria Lane as she took to the stage in Madrid, Spain to host the MTV Europe Music Awards. The 35-year-old actress changed designer duds a whopping 13 times throughout the evening and somehow managed to pair each new outfit with a different
hairstyle
.
Mrs. Tony Parker was not alone in her evolving ensembles, with everyone from Shakira to Katy Perry pulling out all the fashion and beauty stops for the event.
Pery, the newly-minted Mrs.Russell Brand, rocked a red beaded mini that read "Admit One." And, later, while sharing the stage with the petite host, Perry, in a midnight blue number, yanked off Longoria's skirt to reveal a corset. More comedic fashion hijinks ensued when Longoria was accompanied on stage by four men showing off brief-covered butts that spelled her name. And just to prove that a certain star wasn't the only one to be able to pull off a meat outfit, Longoria catwalked in a giant ham costume. "Lady Gaga couldn't be here tonight but she left this dress in the refrigerator backstage," she teased.
But, perhaps the most applauded outfit of the evening was the red mini dress Longoria sported while holding a soccer ball and leading a chorus of "Viva Espana" to congratulate Spain on its World Cup victory.
Shakira, to the envy of others, showed off her perfectly formed abs and crazy-toned
body
shaking moves while performing her single, "Loca" in a bikini top and low-slung fringed pants.
Flame-haired Rihanna pushed her fashion sense in both a puffy Marchesa tulle gown and a bustier mini-dress covered in silk flowers.
And, Miley Cyrus continued to flaunt the fact that she's almost 18 by
flaunting her 'Just Breathe' chest tattoo
in an open-back dress and again later while performing her song, 'Who Owns My Heart?' in a peach silk jumpsuit and hot pants (a nod to Britney Spears' 2000 MTV performance in nudish outfit pehaps?)
Winners included Justin Bieber, who won Push Artist and Best Male Artist; Lady Gaga, who won Best Pop, Best Female and Best Song; Ke$ha, who won Best New Artist; Katy Perry who won Best Video for 'California Gurls'; and Bon Jovi, who collected the MTV Global Icon award.
What did you think of these stars' outfits?
-- Sarah McClure