Pregnant Miranda Kerr Poses Nude for W Magazine
Posted on November 10, 2010, 4:17 PM
Borrowing a page from the Demi Moore playbook of posing naked while with child, Orlando Bloom's baby mommy goes all out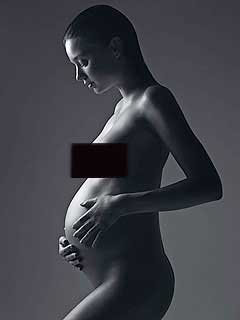 Courtesy of W Magazine
Miranda Kerr, the Victoria's Secret model from down under, decided to celebrate her glowing seven months pregnant
body
by showing it off on the cover of W magazine.
In the black-and-white photograph, shot by the legendary Patrick Demarchelier, the 27-year-old, appears ridiculously slender and petite even though she's nearing the end of her 9 months. Framed in soft lighting, a sweet-looking Kerr is cradling her belly while gazing demurely down at it. Also naked it appears, is Kerr's unadorned face which shows barely there
make-up
. And even her famed toussled
hairstyle
is minimal and slicked back.
Although the Aussie stunner is usually photographed with bedroom eyes and wearing nothing but lingerie and glitter, this image isn't intended to be flirty, fun or remotely sexy. But, perhaps provocative. And, definitely sweet.
While Kerr and her actor husband, Orlando Bloom, have kept mum about the sex of the baby, they're happy to extoll the virtues of family. "For me, family is life, the decision to start one wasn't complex at all," Kerr told "PEOPLE" magazine. "My career has been wonderful, but it's not my life."
While it's clear Kerr has her familial priorities where they should be, do you think she showed model behavior as a mommy? Some critics have suggested otherwise.
Is it always appropriate for celebrities to flaunt their naked, pregnant bodies to the public? And, if you had the opportunity to grace an international cover with a baby bump, would you dare?
--Sarah McClure