Carrie Underwood to Star in First Motion Picture
Posted on February 4, 2010, 2:11 PM
Country songstress Carrie Underwood has a big week ahead of her. First, she will perform the national anthem at the Super Bowl before flying down to Oahu, Hawaii, to star in the film "Soul Surfer" and second, she'll be planning her wedding hairstyle.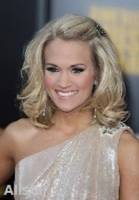 Carrie Underwood will be appearing in the movie "Soul Surfer."
Oh, plus she's planning a wedding.
However, if we've learned anything from her past appearances, Underwood will look calm, collected and lovely despite her harried schedule.
We already know that Underwood plans on wearing big hair and eyeliner at her wedding, but we can't wait to see what look she chooses for Super Bowl Sunday.
Performing in front of massive crowds is sure to be old-hat for the singer, but Underwood has never before appeared in a movie.
"Soul Surfer" tells the true story of Bethany Hamilton, a young surfer who lost her arm in a shark attack, but who went on to become a professional wave-catcher.
Underwood will play the role of Sarah Hill, a youth counselor at Hamilton's church, according to "People.com."
The news source reports that even though Underwood has turned down several movie roles in the past, the inspiring story of "Soul Surfer" spoke to her in a different way.