Simpson Keeps Her Hairstyle Simple and Elegant at Broadway Event
Posted on December 2, 2009, 9:45 AM
Forget the fussy updos, Jessica Simpson recently showed up to her sister Ashlee's Broadway debut with her hair in a sleek ponytail.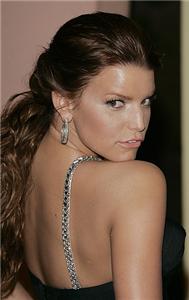 Simpson, seen here as a brunette, tends to favor simple ponytails for events
Simpson, pictured here, straightened her usual wavy blonde hair and slicked it back in a high ponytail, a simple hair trick that exemplifies one's cheekbones.
If you wanted to try this look for yourself, simply blow dry your hair straight, taking the hairdryer down the length of your hair with a brush. Use a straightening iron after you dry, if necessary.
Next, use some light hairspray so that your hair will stay in place after you style it. A few sprays should be just fine, as you don't want to fall victim to helmet hair.
Start by brushing your hair back, covering any part you may have. Take the brush underneath the back of your head and use it to lift your hair up into a ponytail. Smooth the top of your head with the brush if necessary.
Finally, for a more glamorous look, use a jeweled hair tie for some added sparkle to your hair, or if you want to dress it up a little more, add a fancy headband.