Paris Hilton launches new product that will bring celebrity style to the masses
Posted on November 11, 2009, 2:11 PM
Soon you will be able to buy hair styling products made by this hot heiress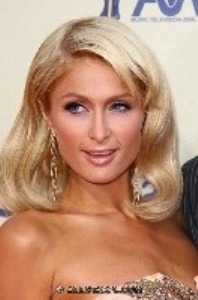 Paris Hilton goes glam at the 2009 MTV movie awards
Paris Hilton, pictured here, may have reportedly been the victim of the so-called Bling Ring - thieves who stole from the rich, famous and glamorous - but People.com reveals she has more than bounced back. This style maven is releasing her own line of hair styling tools, the ringleader being the Celebrity Styler.
The star's new tool is a combination hair straightener and curling iron, for ladies who might have to make hairstyle decisions at the last minute. One arm is a brush-like tool to keep hair straight. The other is a round, barrel-like iron that rotates to keep the heat moving and one's hair from frying. This also makes it easier to style hair with waves, smooth flips and curls.
Paris has been using her nearest and dearest for market research. "My friends and sister have tried my hair products," she told the website.
Also among Paris' beauty and style products are the Ultimate Brush, designed in a ball shape to add volume, and a selection of flirty nail polish colors.