Katharine McPhee Stands Behind Her Drastic Hairstyle Change
Posted on January 4, 2010, 10:25 AM
"American Idol" alum Katharine McPhee may have shocked the masses when she traded in her long, brunette locks for a short, blonde hairstyle, but she stands behind her decision, saying that she feels confident in her new look.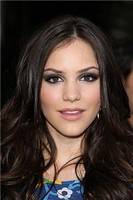 Most fans know McPhee for her long, luscious tresses
McPhee, pictured here at a previous event with what were once her signature tresses, recently commented at a Hollywood event that her new look reflected her personal changes, according to "Fox News".
"I spent a year and a half working on the record and this [the new hair] was an expression of me figuring out what I wanted to do," she told the news provider.
Want to change up your hairstyle like McPhee? Head to the drugstore and grab an at-home hair coloring kit. Before you apply the color, swipe Vaseline along your hair line to keep the dye off of your skin. It will help prevent skin irritation and the color from staining.
Mix the dye together by following the directions on the box and apply evenly on your hair.
Leave the color on your hair for the recommended time then rinse it out in the shower. Finish by using the special conditioner provided in the kit.