Kate Beckinsale Goes Blonde
Posted on January 18, 2011, 1:29 PM
The British actress has traded in her signature brown for beach blonde hair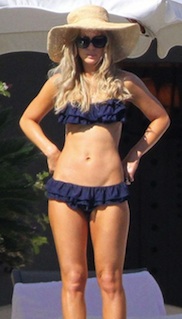 Photo: Splash
Kate Beckinsale turned even more heads than usual last Friday as she and her husband, film director Len Wiseman, made their way through Los Angeles airport on their way to Mexico.
The British actress, 37, has bleached her signature chestnut brown hair blonde and was spotted having fun frolicking in the sun with her 11 year-old daughter Lily (from an earlier relationship with actor Michael Sheen) south of the border, where she was snapped by paparazzi showcasing her new beachy look.
Beckinsale is set to begin production on "Underworld 4: New Dawn" in March with Wiseman at the helm. (The pair met on the 2003 set of "Underworld" and married in 2004.) There's no word yet on whether the new look is for the film or for fun.
What do you think of Kate as a blonde? Like it? Or do you prefer her signature
brown hairstyle
?