Tori Spelling is Expecting her Third Child
Posted on April 11, 2011, 4:14 PM
Tori and Dean are gearing up to welcome baby number three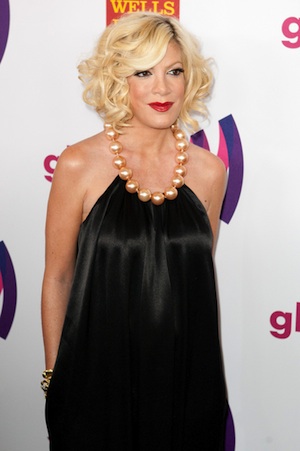 Tori Spelling is Expecting her Third Child
"I know there's been a lot of speculation, so I wanted everyone to hear from me ... It's official ... Dean & I are PREGNANT!!!!," Tori Spelling tweeted on Monday.
The "speculation" she refers to arose after she was spotted with a small tummy poking through the fabric of her vintage Moschino dress at Sunday night's GLAAD awards.
Fans of the 37 year-old former "Beverly Hills 90210" actress immediately thought she was pregnant and some had also been considering the possibility that perhaps she was carrying the baby for someone else -- her best gay friends Bill Horn and Scout Masterson (otherwise known as the "guncles" since they're gay and her childrens' "uncles").
But, it turns out that she and Dean McDermott are set to welcome their very own child to their family which already includes Liam, 4 and Stella, 2. Dean, as fans know, also has a 12 year-old son, Jack, from a previous marriage.
Tori and Dean are currently starring in their third show for Oxygen, called "Tori & Dean: sTORIbook Weddings."
What do you think of the mom-to-be's bob-length
blonde hairstyle
?