Dakota Gets Punk'd: Fanning's Feathered Platinum Hairstyle Revealed in "The Runaways"
Posted on August 12, 2010, 6:44 PM
The former child star is all grown up and sporting a new 'do (and a whole lot more) in the biopic that's available now on DVD.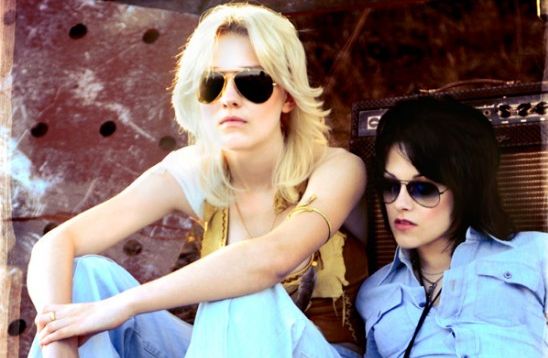 Dakota Gets Punk'd: Fanning's Feathered Platinum Hairstyle Revealed in "The Runaways"
Fans will likely cheer after eyeing Dakota Fanning's platinum blonde 
hairstyle
 in first-time director Floria Sigismondi's movie, "The Runaways" which was released on DVD last weekend. The cause for the 16-year-old's startling new strands? Fanning stars as sexy, rock femme Cherie Currie, alongside Kristen Stewart who plays Joan Jett, from the all-girl 80s rock band, The Runaways -- famous for hits like, Cherry Bomb.
Former child star Fanning adopts the look of her fishnet and corset-ed rocker chic like, er, child's play. The star's breakout, punk-rock hairdo is a far departure from her ingénue days in "Charlotte's Web" and "The Cat in the Hat."
A throwback between a Charlie's Angels' Farrah Fawcett and glam punkette, Fanning's feathered and choppy haircut is as much a major player in the movie as Fanning herself, who—at times on the stage—is literally shaking off her Rebecca of Sunnybrook Meadow-esque persona in lieu of drug-taking, stage-grinding, vixen Currie. Her character, a Bowie freak, does a DIY on her simple, parted-down-the-middle hairstyle by chopping it into a shag as a gesture to, who else, but David Bowie.
The Runaways, who, despite being an all-girl band i.e. a minority in the world of male-dominated rock and roll during the 1970s, broke through to success --particularly in Japan.
"I think our generation has grown up with really strong female music performers. We're used to that. I think this movie will open the eyes of people our age who don't really know that it was so tough for them once upon a time," Fanning told SheKnows.
We think Fanning just might be the youthful touch needed to give the decades-old feathered 'do another revival. Don't be surprised if many girls suddenly embrace their '70s rock star side and Cherie-fy their hairstyles, post music session with Fanning and Stewart (although we might be partial to Fanning's fabulous shag over a mulleted Kristen Stewart).
Oh yeah, and did we mention the real-life Joan Jett actually worked on the film? No wonder the hair was one of the most believable parts of "The Runaways." -- Sarah McClure