Best Blowouts in the USA - Where to Get Your Hair Blown Dry
Posted on June 30, 2010, 9:31 AM
From east to west, here's where to get a salon-gorgeous blowout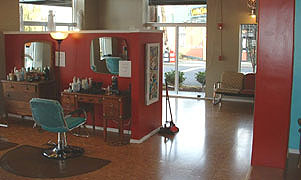 Beehive Salon in Seattle
Good hair day equals a gal who can conquer the world; bad hair day equals a dame defeated, a darling turned down in the dumps. Why we get how important it is to posess a head of bombshell-beautiful locks. And also why we get that it's our duty as beauty ambassadors to supply thee with the deets for achieving awesome
hair care
that will result in get-out-of-town fabulous hair. The quickest way to go from lackluster to lush? A mighty grand blowout. Lucky you, friend, we scoured the USA to find the best places to score a winning blowout; here, our favorite spots to get seriously shiny, smooth, soft strands.
Wind and hair are not friends. That's why, in the city that's known for uber frigid temps and wind to boot, a good blowout is crucial to find. Nestled in the heart of Chicago's Lincoln Park shopping district, Blo Salon (826 West Armitage) should be on speed dial (773-477-2256). For just $29 bucks, you can get a gorgeous, sleek
hairstyle
; Blo offers a slew of other cosmetic services too, including hair color, extensions, and lash and brow tinting. Walk-ins are welcome, though appointments are recommended (especially on the weekends). For more information, visit www.blogchicago.com.
Christophe (as in, Christophe of Beverly Hills) is like the king of hair. He's been around for more than a few decades (which explains how he has salons in more than four locations, nationwide, including his flagship in Beverly Hills), and that's for good reason: every
hair-care
service is stellar. But we love the blowouts at Christophe Beverly Hills, because although the salon is exquisite and chic, it's not at all pretentious and is totally approachable. The staff is kind and courteous, the blowouts beyond incredible. Check it out at www.christophe.com.
Houston, we've got a solution (to dull strands that is): enter, Aqua Salon, where hair is paramount and results are the real deal. Perfectly situated in Houston's Galleria area, the salon is focused on being friendly, fun, fast and ferociously fab (at blowing out hair). To book an appointment or learn more about the services at Aqua Salon, visit www.aquasalonandspa.com.
If you have curly hair and live in Seattle, you've met your match in Beehive Salon (www.beehivesalon.com), which offers a specific blowout for curly Qs (just $60). Don't be turned off by the décor, which is very mix-and-match with a nifty, shabby-chic allure; the stylists are top notch, even if the feel is down home. And even if you have easy, straight-ish hair, Beehive is worth a drop by for a $25 blowout – that's unbeatable in any hood of any city, seriously.
Whether you're in Philadelphia for a special event or are proud to call the city home, a visit to Salon Vanity should be on your shortlist. This newby salon (founded in 2005) is located in Center City – close to most major hotels, museums, shops and restaurants. All of the hair services are excellent, but the blowouts are bafflingly great. Kudos to the well-trained and traveled staff at Salon Vanity, an experience at this salon is not to be skipped. Visit www.vanityphilly.com for more information.
OMG: the fact that there's a bar in NYC just for blowouts doesn't surprise us, but the idea that the bar will come to you – to your apartment, office, hotel, friend's pad – to give you the best blowdry of your life, well, that's genius. Blow, the New York City Blowdry Bar (www.blowny.com), is all about hair drying. The salon offers packages (like, pay for 10 blowouts, receive the 11th for free) and special add ons, like manicures with your blowouts, as well as quick in-and-out services. If you're after an A-list look-a-like do, this is the place for you.