Kat Graham Knocks Us Out with Her Boxer Body
Posted on September 27, 2010, 10:56 AM
The "Vampire Diaries" star packs a punch with her boxer-toned body in her newest music video.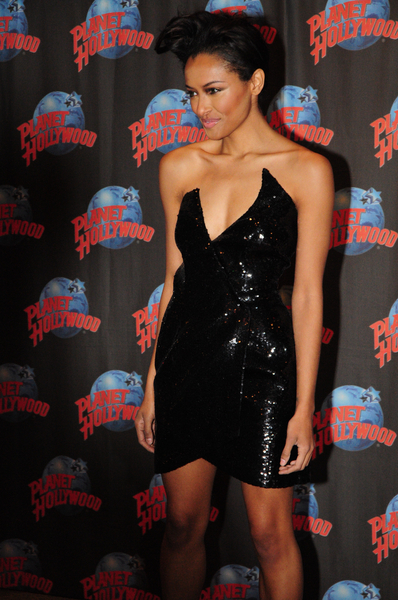 Kat Graham Knocks Us Out with Her Boxer Body
If you have not yet heard of Katerina Graham, it's only a matter of time before you'll catch a glimpse of the Switzerland-born, Hollywood-raised talent that's hit the entertainment panorama, from music, film, television, to your next Strawberry Fanta (17-year-old Graham was one of the original "Fantanas"). In her new music video, "Cold Hearted Snake" – a remake of the 1989 Paula Abdul hit -- Graham, in I'm-not-playing-around-and-might-deck-you boxer gear, shows off her champion
body
.
Graham, who's admitted she loves acting but feels music is more personal to her, is promoting her debut album, "Sassy," which features songs, "Sassy" and "Cold Hearted Snake." In the video, a red-lipsticked Graham, complete with boxer-wrapped fists, sexily growls at the camera, while aggressively dancing in the middle of a boxer ring— baring toned pecs and body. "My sound is vintage '90s with a modern twist," she told PopWrap. "It's Janet Jackson infused with MIA."
This isn't the first exposure to the music industry for the 21-year-old, who, trained as a dancer and holding a recording engineering degree, has worked as a backstage dancer for Bow-Wow at the BET Awards, appeared in videos for Musiq Soulchild, John Legend, Missy Elliott, Pharell and Justin Bieber's "Somebody to Love," to dropping her vocals for Will.I.Am's "Songs About Girls" and "I Got It From My Mama" (she later toured with The Black Eyed Peas). The European pedigree (her father is Liberian and her mother is Russian-Jewish) is also fluent in four languages, including French, Spanish and Portuguese. "My background is one that is so varied," according to Graham's bio. "My circumstances and my mind have set me apart and I will never blend in."
The dancer-musician-actress was also plucked to star in "The Roommate" with "Gossip Girl's" Leighton Meester, and the 2003 sequel, "Honey 2," where she plays dancer and fresh-out-of-juvie Puerto Rican Brooklynite, Maria Ramirez. "I loved 'Honey' – it was the first time you saw a movie follow a young woman on her dance journey," she told PopWrap. "What I love about this script is it's grimier, it's grittier […] her dancing is tougher."
When not recording and filming, Graham is shooting one of her biggest TV roles in the second season of the CW's "The Vampire Diaries" as Bonnie Bennett. "I'd fly home for 16 hours and record as much as I possibly could," she told PopWrap. "Then I'd come back to Atlanta and record out here. The process never really stopped for me."
"Sassy" has always been a reflection of, according to Graham, "the way I sing, the way I rap, the way I live." She continues, "Anyone who knows me knows what I'm about – how much I'm into empowerment, equal rights and everyone just loving themselves."
And baring a wrist tattoo of "nosce te ipsum" (Latin for "Know thyself") we wouldn't doubt the sassy triple threat for a minute.
-- Sarah