Photo 1/8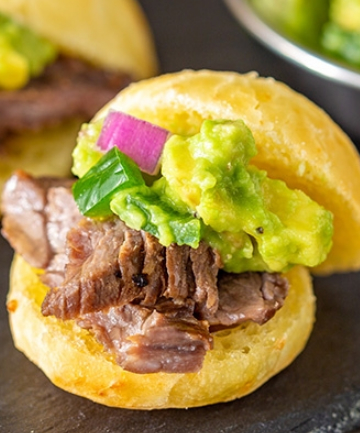 Super Bowl parties aren't the time for carrot sticks and matcha... but that doesn't mean
healthy eating
has to go
totally
out the window. There are plenty of
easy (and totally delicious) healthy recipes
that put new, fun spins on classics like pizza and sliders. With that in mind, we reached out to leading nutritionists and asked them to share their favorite Super Bowl recipes with us.
In this slideshow you'll find everything from fiber-packed vegan options to bacon-filled Paleo ones. Too lazy to cook?
There are packaged options
that make great snacks too.
Photo 2/8
Cauliflower Pizza Muffins, serves 4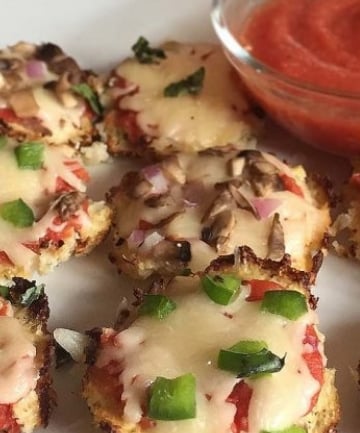 "This healthy twist on one of the original Super Bowl foods, pizza, has one-third the calories of the traditional version. It's packed with cancer-fighting lycopene from the tomato sauce and ups the ante another notch by boosting fiber and phytonutrients from cauliflower, mushrooms and spices," say
The Nutrition Twins
, Lyssie Lakatos, RDN, CDN, CFT and Tammy Lakatos Shames, RDN, CDN, CFT and authors of "The Nutrition Twins' Veggie Cure."
Ingredients:
· 1 head of cauliflower, riced/grated (about 3 cups)
· 2 eggs
· 3 tbsp almond flour
· 2 tsp Italian seasoning
· 1/4 tsp black pepper
· 1 cup tomato sauce
· 3/4 cup light mozzarella cheese
· 1/2 cup mushroom (or veggie of choice)
1. Preheat oven to 400 degrees.
2. In a medium size bowl, add cauliflower, eggs, almond flour, Italian seasoning and black pepper, and mix thoroughly.
3. Spritz a muffin tin with oil to prevent sticking. Place 2 tablespoons of the cauliflower mixture into each muffin hole to make the crust.
4. Bake for about 25 to 30 minutes until completely cooked and the edges are a crisp brown. Remove the muffin tin from oven.
5. Without removing the crust from the muffin tin, spread 1 teaspoon of tomato sauce over each crust and top with 1 tablespoon of cheese and veggies.
6. Place back in the oven until cheese is melted. Meanwhile, in a small saucepan or in the microwave, warm remaining tomato sauce for dipping. Once warm, place in a small bowl.
7. Remove the pizzas from the oven when cheese had melted. Let cool for several minutes then gently loosen the pizza from the tins.
8. Serve warm and enjoy!
Photo 3/8
Hummus Stuffed Jalapeño Poppers, serves 8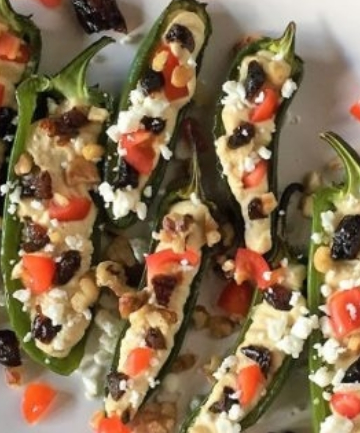 "This low-calorie twist on calorie-dense jalapeño poppers is sweet, creamy, crunchy and hits all the flavor notes, while packing a nutrient punch with polyphenols from sweet prunes and omega-3 fatty acids from crunchy walnuts. Plus, these bites contain protein and fiber, the magical combination to keep blood sugar levels stable to prevent energy dips that could result in cravings for other less-than-healthy Super Bowl fare," say The Nutrition Twins.
Ingredients:
· 1 can of garbanzo beans (chickpeas), drained
· 3 garlic cloves, crushed
· 1 tsp cayenne pepper
· 1/2 tsp black pepper
· 1/2 tsp red pepper
· 1/4 cup water
· 1 lemon
· 8 jalapeños, sliced in half, seeds removed
· Oil in a spray container
· 5-6 grape tomatoes, finely chopped
· 1/8 cup feta cheese
· 5-6 California prunes, finely chopped (we munched on the extras)
· 2 tsp chopped walnuts
1. Preheat oven to 425 degrees.
2. Line baking sheet with unbleached parchment paper. Spray lightly with oil.
3. Place jalapeños sliced side down on parchment paper (or tin foil) and very lightly spray/mist with oil. Bake 10 minutes. Then, remove and put on parchment paper.
4. Meanwhile, while the jalapeños are cooking, add the beans, garlic, cayenne pepper, red pepper, and water to a food processor and blend. Cut the lemon in half, and squeeze the juice of each half into the food processor.
5. Mix the ingredients together until smooth.
6. Place the hummus in a Ziploc baggie, clip a corner and use that to pipe the hummus into the cooled jalapeños.
7. Fill each jalapeño shell completely with hummus and top with prunes, tomatoes, walnuts and feta! Enjoy!
Photo 4/8
Roasted Cherry Tomato Salsa and Chips, serves 8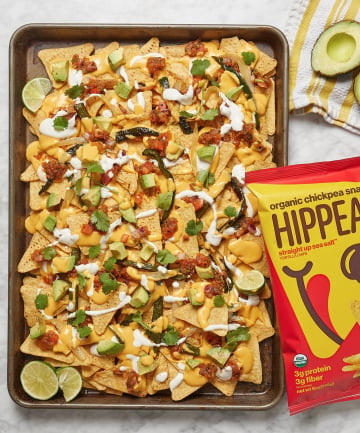 "I had the pleasure of working with
HIPPEAS Organic Chickpea Snacks
on the launch of their tortilla chip line. I created several recipes that would work great for the Super Bowl, but my favorite recipe is for these nachos and salsa. It tastes great, plus you get both protein and fiber," says
Matthew Kenney
, celebrity chef and restaurateur.
Ingredients:
· 1 pint red cherry tomatoes
· 1 pint yellow cherry tomatoes
· 1 serrano pepper, seeded and diced
· 1⁄4 cup onion diced
· 1⁄2 cup chopped cilantro
· 2 tbsp neutral oil (canola, vegetable or grapeseed)
· The juice of 1 lime
· 1 tsp salt
· Bag of tortilla chips
1. Heat an oven to 450 degrees.
2. Place the tomatoes, Serrano pepper and onion in a mixing bowl.
3. Toss with oil and place on a roasting tray.
4. Cook until the skins of the tomatoes have blackened.
5. Remove the tray from the oven and allow to cool.
6. Place the ingredients in a bowl and mix with the salt, cilantro and lime juice.
7. To serve place chips on a tray and heat for 4-5 minutes in a 350-degree oven. Top them with the salsa and anything else you crave (think cheese, avocado, guacamole, etc.). You can also add scallions and cilantro for extra zest.
Photo 5/8
Vegan No-Fry Cauliflower Hot Wings, serves 2-3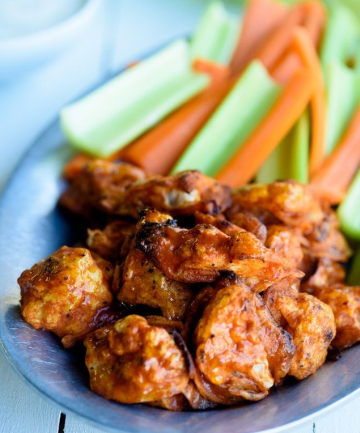 "If you bring these to a Super Bowl party, there's a chance people may mistake it for meat! Cauliflower is such a powerful vegetable that we all can use a little more. So go ahead and surprise your friends with some tasty cauliflower for the Super Bowl. This recipe will sure help get the party started no matter what team you're cheering for," says celebrity nutritionist and founder of My Solluna,
Kimberly Snyder
.
Ingredients:
· 1/2 cup gluten-free flour
· 1 tsp garlic powder
· 1 tsp pepper
· 1 tsp sea salt
· 1 1/2 cups warm water
· 3 tsp egg replacer
· 1 medium head cauliflower
· 1/4 cup organic hot sauce
· 1 tsp coconut oil
· 2/3 cup silken tofu
· 1/2 a medium yellow onion
· 1/4 cup nutritional yeast
· 2 tbsp minced garlic
· 1 tbsp fresh cilantro, minced
· 1 tbsp fresh dill, minced
· 2 tsp raw apple cider vinegar
· 1/2 tsp sea salt
1. Preheat oven to 450 degrees.
2. Wash and cut the cauliflower into bite size pieces. Prepare the dry ingredients into a medium sized bowl. Add water to dry ingredients and whisk the mixture until it is relatively lump free.
3. Prepare a cookie sheet with wax paper. Dip each cauliflower bite into the mixture and place on cookie sheet.
4. Cook for 30 minutes, flip then cook for ten more minutes. Remove from oven and let cool for 10 minutes. Toss the cauliflower bites in the hot sauce and coconut oil.
5. Blend all sauce ingredients together in food processor until smooth.
6. Serve cauliflower wings with carrots, celery and the vegan ranch.