What Sexy Summer Perfume is Right for You?
Find out what scent you should update your fragrance wardrobe with this season
Ahhh … there's nothing quite like the smell of warm summer air. As temperatures rise and your attire shifts into sandals-and-short-shorts, shouldn't your fragrance follow? The scent of a woman is vital for setting us apart from each other so it should not only match our unique personalities, but our perfume wardrobe should change with the seasons too. Skip to the quiz to see what your new scent should be.

But do you know which summer scent is best for you? We created this quiz to help point you to your alluring new warm weather scent. Based on your distinctive answers, you'll get results that'll give you the skinny on which women's perfume category fits you. Is the new Stella McCartney scent for you or should you go with Burberry's Summer Edition? Then, you'll get a few hot-for-summer perfume suggestions. Get them now.

Even though we've done most of the work for you -- so that you don't have to test a bunch of perfumes and beauty products -- we have a few perfume-testing tips for you as well:

• Don't apply any fragrance or scented body wash or lotion the morning you plan to test perfumes.
• Make sure that you aren't allergic to any of the ingredients in the perfumes that you're testing.
• Test fragrances in a room with adequate airflow.
• Apply scents directly on clean skin -- namely on your pulse points.
• Don't rub your wrists together after applying perfume -- the action can affect the smell.
• Give the fragrance some time to settle into your skin after applying it -- it'll smell different a few minutes after you put it on. And remember many scents smell differently on different people.
• Don't test more than four fragrances at once -- your sense of smell will become perplexed and dull.
Question 1 of 7
What's your favorite time of day in the summer?
more stories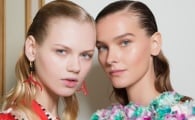 -->