Do You Have Bad Hair Manners?
Test your salon etiquette by taking this true/false quiz
Clearly you're aware of certain ubiquitous rules of good manners like saying "please" and "thank you" and "excuse me." You might even take it up a notch by doing things like sending hand-written thank you notes and flowers. But when it comes to salon etiquette, do you have bad hair manners?

We think it's safe to say that there's some grey area when it comes to the dos and don'ts of how to navigate the salon. You may feel stumped by some head-scratchers like these: Is it OK to cheat on your hairstylist? What's the rule of thumb for tipping? Should you expect your hairstylist to fix a bad haircut for free? Can you swing a free blowout? Get these questions and more answered by taking this true/false quiz.

For this one, we called on experts from coast to coast (literally) known for creating fab celebrity hairstyles. Marie Robinson is a highly respected colorist with a star-studded client list who worked on "Sex and the City 2" and recently launched her eponymous, upscale salon in Manhattan. We also got in touch with celeb hairstylist Eli Thomas, founder of the charming Thomas Chance Salon in Santa Monica, Calif. They shed some light on how the changing economic climate has affected both clients and hairdressers alike. Our hairstylists have been feeling the financial blow of our job losses and cut backs since we are likely spacing out our appointments for as long as possible, seeking out cheaper services, doing hair at home or having a friend do it, or rocking roots and split ends. Robinson and Thomas explain how loyalty and supporting your local businesses are more important now than ever. By taking this quiz, you'll brush up on your salon etiquette and go into your next appointment -- minus your bad hair manners -- feeling confident and relaxed. Test your knowledge now.
Question 1 of 13
It is okay to cheat on your hairstylist.
Your Results
The correct answer: True
"I think it's perfectly okay to have a fresh set of eyes look at your hair … it can be good to change stylists once in a while," says Robinson. If you want a different look, but your hairdresser keeps you in the same style and won't change it -- it's time to find someone else. If you don't like your new stylist, it will make you appreciate your original stylist and you can always go back. Thomas agrees saying that "we don't own our client," so you have the freedom to go wherever, whenever. However, if you like the salon, but just want to mix it up, try a different stylist at the same salon.

But that's the tricky part -- how do you try a different stylist without hurting feelings? Thomas suggests explaining the situation to the salon director and having him/her advise you on how to make the switch.
Next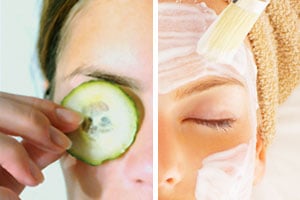 -->