Hair care
We Tried It: The Hairbrush to End All Detangling Wars
Tired of doing battle with your color-ravaged, knotted hair? We put the ultimate detangling brush to the test. Find out how it fared.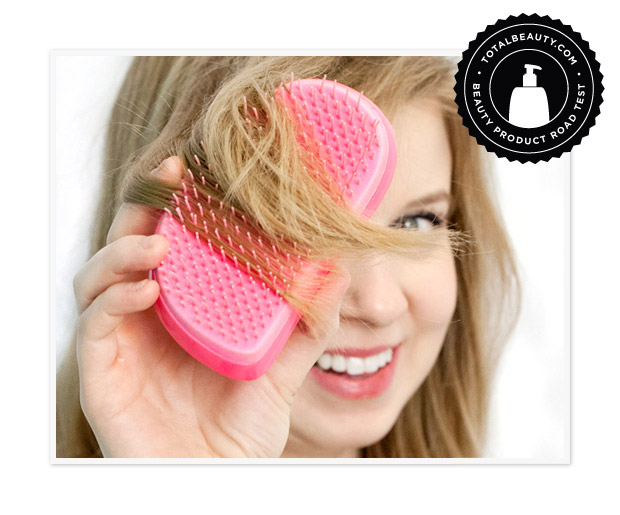 I was blessed with super-manageable hair for the first 19 years of my life -- so manageable that, while other girls on the dance team complained about how they were going to get the teasing out of their hair after a performance, I was worried my hair wouldn't hold the tease for the time it took to get to the basketball court and perform.
Then everything changed. I got highlights,
balayage style
.
My hair suddenly became a tangled, knotted mess that I could barely get a comb through without tearing up. And while I will admit to crying my way through every episode of "Grey's Anatomy," when it comes to pain I am no baby. So when I heard about the Tangle Teezer, a brush that promised to detangle my hair without causing stabbing pain or fits of crying, I was intrigued.
What Is This Thing?
That was the first thought that popped into my head. I wasn't quite sure what to do with it. The unorthodox-looking brush hails from the UK (instant cool factor), has no handle and is shaped a bit like a kidney. Hair colorist Shaun P. came up with the idea when he saw an assistant at the shampooing station in a salon struggling to detangle a client's freshly colored hair. The brush was designed with every hair type in mind (yes, even those with
extensions
and weaves) and works on wet or dry hair.
How Does It Work?
The detangling power is in the bristles. They vary in length and are bendy enough to flex over tangles without painfully tugging, but are firm enough to work through knots. And because the brush has no handle, the design helps it fit perfectly in your hand so you can have total control (hence the kidney shape).
My Test Drive
I decided to jump right in, and try it out when my hair is at its worst: After showering (dun dun dun). Nothing sends my hair to rat's nest territory faster than lathering and rinsing. But the little brush put up a valiant effort against my tangles, and managed to get through them without causing me to tear up. I was also able to detangle my hair in about half the time it normally takes me (I scientifically measured this by seeing how far into an episode of "The Vampire Diaries" I got before my hair was smooth). Bonus: it didn't make the ends of my hair break off, something that is inevitable with other brushes.
The Verdict
While it isn't completely painless (because that really would be too good to be true), it definitely gives me the least painful brushing experience I've had post-balayage. They even make a compact version that I keep in my purse, in case hair disaster decides to strike. I've officially broken it off with my other comb -- though we did have one final tryst when I accidentally misplaced my Tangle Teezer. Ow. Never again.