Beauty Tips
Tyra Mail: The Former Top Model Predicts Our Beauty Future
Ms. Banks has glimpsed our future and, if she's right, we're in for a wild ride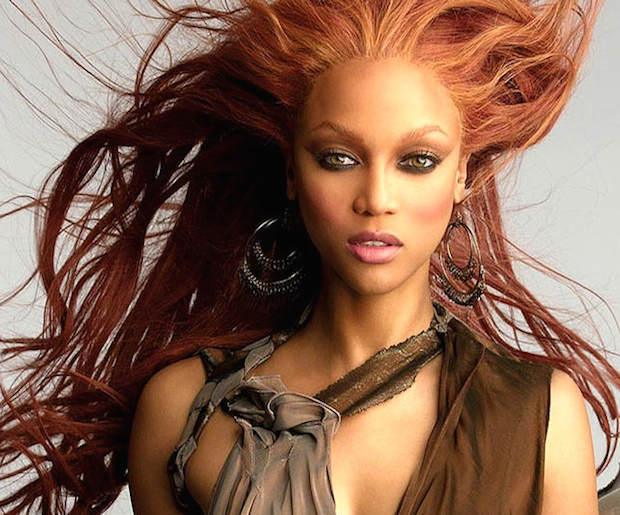 It's been a while since Tyra Banks traded in her Victoria's Secret wings for her executive producer hat and now, with an op-ed piece in
The Wall Street Journal
, the Harvard Business School grad is making sure everyone takes note of more than just her considerable good looks.
READ: 18 Best Treatments for Healthy Hair
In a column for the esteemed paper, Banks, 40, says, "In the future, beauty will mean looking different." Like any good student trying to make a point, she sets forth 10 concrete examples to prove her point that "traditional beauty will be less valuable -- and more uniqueness will be heralded." (Methinks someone cracked open the thesaurus.)
With prognostications ranging from "the popular hair texture of choice will be curly," to the outrageous "robot/avatar models with features that look totally different from everyday people will represent and sell products world-wide," Banks, whose credentials for crafting such a piece I'm not completely aware of, certainly touches on a few outlandish concepts.
Here's are my three favorites:
•
Plastic surgery will be as easy and quick as going to the drugstore for Tylenol
. Emphasis will be on how unique and interesting one can look, as opposed to a cookie-cutter look. People will be vying for that cutting-edge, distinct look in the way that today's celebs reach for baby names that defy convention.
•
Global warming will threaten our crops so natural food will be scarce
. Hourglass, curvy bodies will be the aspirational beauty standard, representing that those women have access to bounties of fulfilling yet healthy food, which means they are affluent.
READ: My Open Letter to Photoshop-Happy Editors
•
For those who choose not to go for plastic surgery,
beauty ingestibles (active waters, etc.) will give instant, yet temporary results: contoured cheekbones, rosy cheeks, arched eyebrows. However, one must use them repeatedly to maintain results.