Fashion
Sonia Kashuk: We'll Have What She's Having
You don't need a makeup artist to get gorgeous results. You just need her insider secrets -- which Sonia's happy to share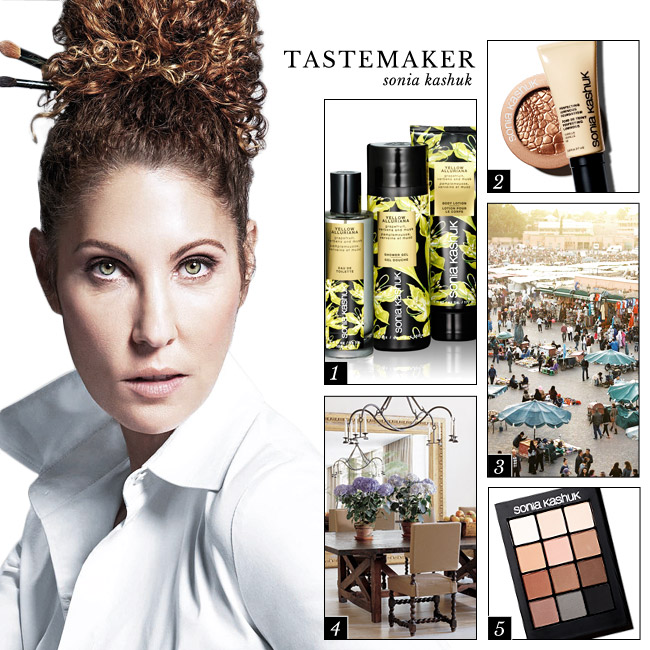 Makeup artist Sonia Kashuk is a force to be reckoned with. The Minnesota native stormed the New York fashion scene in the '80s, her unforgettable looks quickly making her the go-to face maker for supermodels and celebrities alike. An entrepreneur at heart, Kashuk wasn't content to simply create the most coveted looks for magazines like Harper's Bazaar and Vogue. She wanted to make them accessible to the masses, too, through affordable luxury products (something that was unheard of at the time). To call her an innovator is putting it mildly. With so many awards and accolades under her belt, you might think her huge success would put her out of touch with the everyday woman. But awards and magical styling abilities aside, she's a sucker for creating collections that women love -- and it's this uncanny ability to know what we want before we even do that keeps us clamoring to know what she'll be up to next.
1) TB:
Tell us about your new bath and body collection. What was your inspiration?
SK:
The collection reinforces what I set out to do originally, which was bring the element of luxury to women everywhere. It's not always available, and it's something that makes us all feel good.
2) TB:
What was the first makeup product you ever tried when you were growing up? Do you still use it today?
SK:
I was full-on drag as teenager. I can't even believe I'm saying this, but I was all about eye makeup and a dark lip. And I wore a lot of foundation to cover up breakouts and blemishes. But even to this day, I still believe in a great foundation. It's such a powerful tool in makeup.
3) TB:
Who inspires you?
SK:
My husband. The world. I look to so many things for inspiration. I try to travel about two to three times a year. Whether it's a bazaar in Istanbul or a market in Morocco, you can find so many gems around the world that you couldn't necessarily find here.
4) TB:
Name three things that make you happy.
SK:
My kids, my husband and my home.
5) TB:
You have five minutes to throw some makeup on. What do you use?
SK:
My go-to item is illuminating bronzer. Then my neutral
eye palette
, an eyelash curler and mascara, then I'd do my brows. And if I really had five minutes, I'd just throw on a light lip color like
Shine Luxe Sheer Lip Color
.
6) TB:
What's the secret to your signature top knot?
SK:
Laziness. I'm terrible with hair and I have this incredibly curly, big, crazy hair. When I was younger I wanted it gone. So now to deal with not doing it, I just throw it up. The older I get, I just pull it tighter.
7) TB:
If you weren't working in beauty, what would you do?
SK:
I'd be at home. I love organizing and the accessory side of decorating. I believe in form and function, and making things look cool. I'd definitely be involved in something creative or design-oriented.