Beauty Tips
Maria Sharapova Really Loves Sunscreen
The tennis star takes a break from crushing the competition to share some beauty advice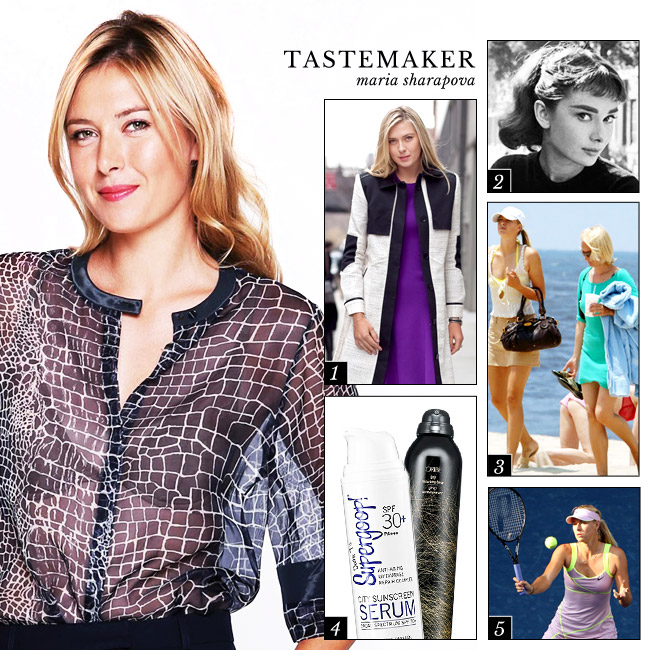 On Sunday, tennis superstar Maria Sharapova won the Porsche Tennis Grand Prix for the third year in a row -- an accolade she adds to her four Grand Slam titles. (Pretty impressive, huh?)
Maybe I shouldn't have been surprised when she needed a couple extra days to answer my burning questions about style and beauty.
When she got back to me earlier this week, I was also surprised by some her answers. Of course she loves sunscreen (she just became a co-owner -- not a celebrity spokesperson -- of Supergoop!), but she doesn't seem to fully grasp her role as a style icon. Over the last few years, she's looked as good on the red carpet as she has on the courts -- and everyone from Vogue to Joan Rivers has appreciated her sartorial choices.
Whether it's a cool printed dress or sporty separates -- accessorized with sunscreen, naturally -- this girl's always winning.
1)
TB:
Describe your personal style in 10 words or less.
MS:
Simple, practical and easy.
2)
TB:
Who are your style icons?
MS:
Audrey Hepburn is one of my greatest style icons.
3)
TB:
What's the best beauty advice you've ever received and from whom?
MS:
At a very young age, my mom told me "your skin won't be young and smooth forever," which is why I made sure sun protection was always part of my daily beauty routine. Broad-spectrum sun care is a vital preventive measure in fighting aging, and more importantly, we all should be more conscious about making UV protection a healthy daily habit. Just like I go to the gym every day, I always apply UV protection.
4)
TB:
What's currently in your makeup bag?
MS:
I keep my
Supergoop! SPF 30 City Sunscreen Serum
with me at all times since that is what I use every day. The formula is so luxurious and lightweight that I don't even want to wash it off at the end of the day! I also must always have my
Oribe Dry Texturizing Spray
for last minute fix-me-ups.
5)
TB:
What advice do you have for young women in sports?
MS:
Find a sport that you are passionate about and stay focused on your own game. Stay true to working hard and achieving your goals.