Fashion
Janelle Monae: The Misfit Everyone Wants to Imitate
Her signature pompadour and tuxedoes are far from mainstream, and that's precisely what makes her look so enviable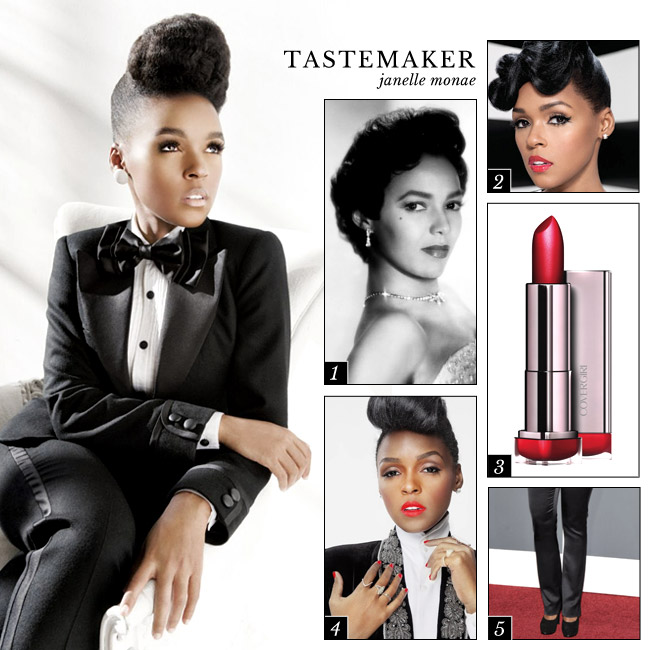 Janelle Monae is -- in one word -- a firecracker. She dances like a maniac. Her songs are essentially four-minute parties, and her style manages to be simultaneously classic and bold. In a sea of ball gowns and finger waves on the red carpet, Monae stands out in a tuxedo and pompadour hairstyle (a hairstyle she does herself, by the way). She's a true individual. And ever since she hit the scene in 2010, Hollywood has become exponentially cooler.
When I had the chance to catch up with Monae after a recent concert at New York City's Apollo Theater, of course I had to ask about the tux and the hair. But there's a lot more to Monae than menswear and coiffing. Here's how a girl from Kansas City became the Electric Lady.
1)
TB:
You're known for your "tuxedo uniform." Do you have a tux-wearing style icon?
JM:
I wear my black and white uniform to honor my parents who both wore uniforms in their professions when I was growing up in Kansas City. One of my biggest style muses is Dorothy Dandridge. She is timeless, and the epitome of classic beauty.
2)
TB:
What's the secret to your signature hairstyle? A specific product? A technique you developed?
JM:
I call my signature hairstyle "Le Monae" which is pinned up and twisted much differently than your average pompadour. I have always loved classic up-dos and pin-up styles, but I wanted to add a futuristic spin to my look.
3)
TB:
Lashes or lipstick? (If you had to choose one) And which product/shade would it be?
JM:
That's a tough question, but I would have to say lips! I like to keep my style very simple by wearing classic black and white, which means I like a pop of color on my lips. My signature shade is
COVERGIRL LipPerfection
in Hot 305. It is the perfect shade of red, and keeps my lips moisturized all through the night.
4)
TB:
Describe your personal style in 10 words or less.
JM:
My style is inspired by words: transcendent, timeless, honest, pure, futuristic, classic, electrifying and rock 'n' roll.
5)
TB:
What's the oldest piece of clothing you own but refuse to throw away?
JM:
My vintage 1954 time travelers tuxedo pants designed by HG Wells.
6)
TB:
What's the best style advice you ever got?
JM:
True beauty comes from the selfless acts you do for others without expecting anything in return.