Fashion
What It Takes to Be Georgia May Jagger
London's It girl spills on what makes her style so effortless and cool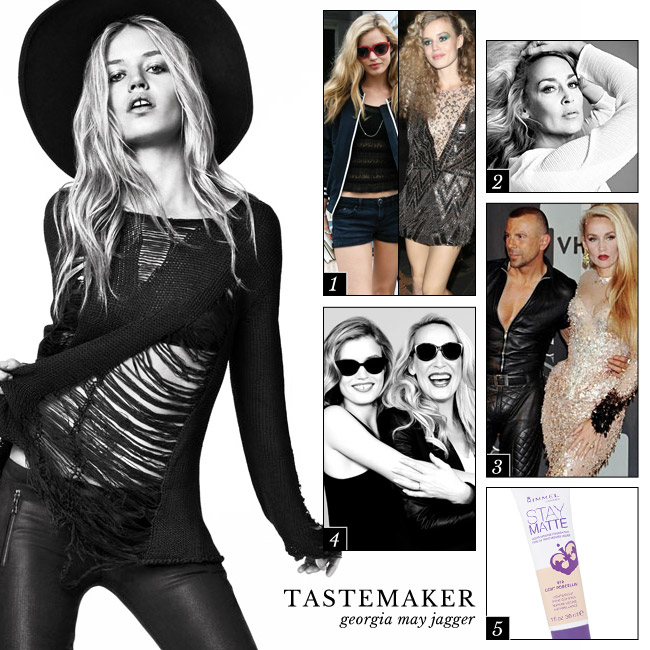 At just 21 years old, Georgia May Jagger has already walked the runway of some of the biggest names in fashion (think Alexander Wang and Marc Jacobs), graced the cover of mags like
British Vogue
and
Harper's Bazaar UK
, and booked campaigns with major labels like Hudson Jeans and Chanel. And there's also that whole Mick-Jagger-and-Jerry-Hall-are-my-parents thing. Despite the fact that Jagger was pretty much born cooler than the rest of us, the Rimmel London Global Ambassador couldn't be more down-to-earth and polite.
Jagger shows up to Rimmel London's spring preview wearing a cream sweater dress that complements her peachy complexion, and a pair of black patent Mary Janes that she's super excited about. "This is my first time wearing these, and I'm really loving them," says Jagger in her oh-so-charming British accent, as she shifts from one foot to another to properly show them off.
With The Rolling Stones trickling from the speakers (of course), we sat down with Georgia at the NYC restaurant, The Lion, to find out how she always manages to look so completely put together.
1)
TB:
Describe your personal style in 10 words or less.
GMJ:
Relaxed in the day and glam at night.
2)
TB:
Who are your style icons?
GMJ:
My mum and my sisters.
3)
TB:
What is the oldest piece of clothing you own that you won't throw out?
GMJ:
I have some of my mum's Thierry Mugler clothes that I really love.
4)
TB:
What is the best style advice you've gotten and from whom?
GMJ:
Probably, again, from my mum, is just to have fun with it because fashion can sometimes be serious. So I really just try to have fun and enjoy it.
5)
TB:
What is currently in your makeup bag?
GMJ:
The Rimmel foundation
and BB cream --I use them together. I sort of use the BB cream as a concealer around certain spots on my face, like on my cheeks and under my eyes. I love the liquid cheek tint -- that's the product I'm most excited about! Then, makeup wipes, mascara and I've got to have an eyelash curler.