Fashion
We'll Have One of Each, Please
Brighten up with key accessories for spring with top picks from Envision Pretty blogger Danielle Cheever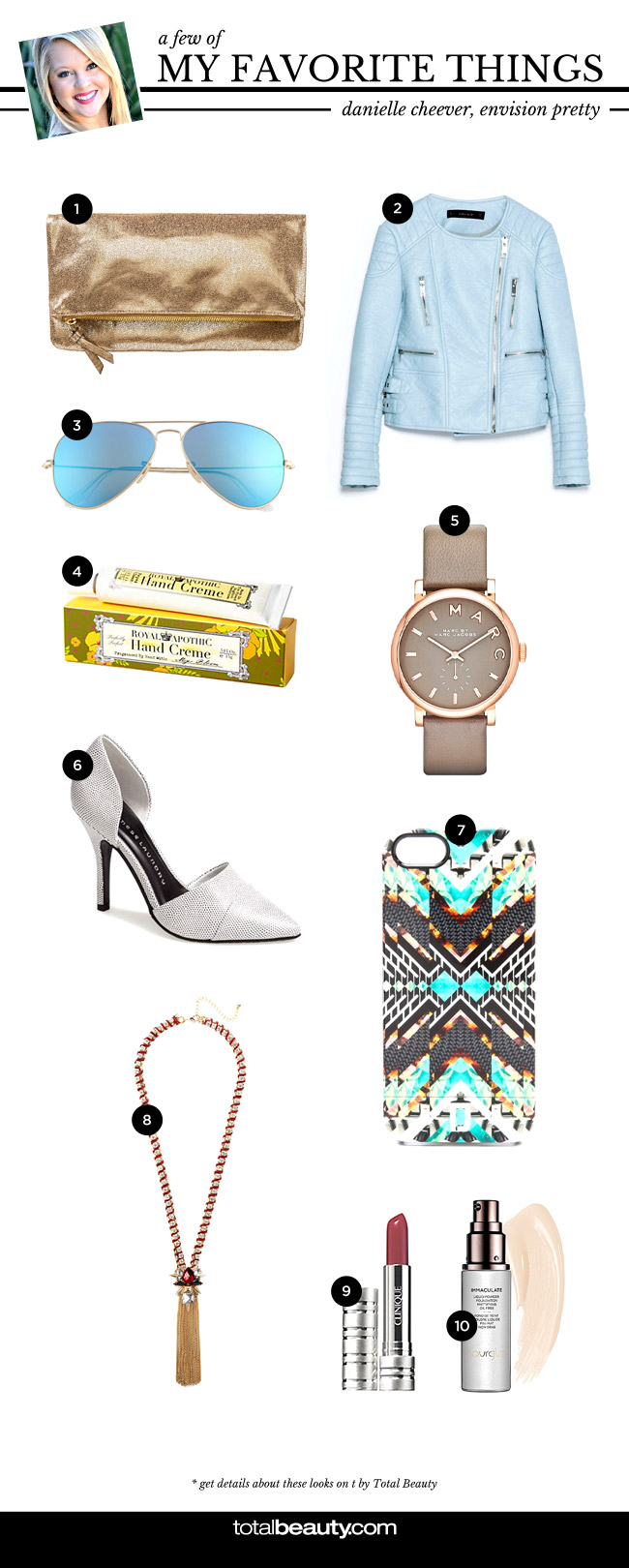 1. Old Navy Textured Fold-Over Clutch, $22.94
This gold clutch is equal parts glam and functional. I love metallics (especially gold), so this bag has gotten tons of mileage. It can dress up a casual look or balance out a dressier ensemble.
2. Zara Pastel Coloured Faux Leather Zip Jacket, $129
The powder blue hue of this jacket is the 'it' color for the warmer months ahead. With its buttery, faux leather finish and amazing zipper detail, it is the ultimate spring statement jacket.
3. Ray-Ban Original Aviators, $160
Mirrored sunnies were super popular last summer, and I don't think the trend is going to disappear quite yet. Blue mirrored lenses can make anyone look chic!
4. Royal Apothic Hand Creme in Meyer Blooms, $20
This hand creme is like cashmere on my hands! It has a gentle scent -- a little goes a long way.
5. Marc by Marc Jacobs Baker Leather Strap Watch, $175
The soft dove grey band and pretty gold-rimmed face make this a chic spring accessory for everyday wear. It is simple worn alone, but can be dressed up by stacking some gold bracelets with it for a more glam look.
6. Chinese Laundry Side Kick Pump, $34.96
The color is more muted than a classic white, which makes them versatile when pairing with other colors. I am obsessed with the d'orsay style -- it's edgy and feminine at the same time.
7. Dannijo Rita iPhone Case, $98
Dannijo iPhone cases are intricate, edgy and just plain cool. Bohemian tones in a unique geo pattern grab my attention immediately. This belongs on my phone!
8. Baublebar Andromeda Tassel Pendant, $44
A great gold tassel necklace is a must. It's easy to layer and adds a laidback vibe to any outfit. I now have three variations of the gold tassel necklace, and I plan to continue adding to my collection!
9. Clinique High Impact Lip Colour in Cider Berry, $15
This is my go-to lipstick for a busy day on the go. It's long-lasting and the rich shade can take me from morning meetings to evening happy hour.
10. Hourglass Immaculate Liquid Powder Foundation, $55
This foundation has answered my prayers. I used to constantly apply powder throughout the day to keep my oily skin matte. This foundation dries like a powder leaving my skin with a nice glow and a matte finish.
See more of Danielle's style picks on her blog, Envision Pretty.