Beauty Tips
Cupcakes and Cashmere's Emily Schuman Talks New-Mom Essentials
The blogger opens up about the power of a face mask, the importance of multitasking products and why she can't part with a ripped lace top
As the creator of
Cupcakes and Cashmere
, Emily Schuman is the Beyoncé of bloggers. Everything she does -- from party planning to recipe creation -- is executed to Pinterest perfection. And everything she touches turns to Internet gold.
When she's not working on her site, Schuman finds time to write books. She published a best-seller, "Cupcakes and Cashmere: A Guide for Defining Your Style, Reinventing Your Space, and Entertaining with Ease," in 2012, and her second book, "
Cupcakes and Cashmere at Home
," comes out May 19.
To celebrate the release of her second book, Schuman partnered with Birchbox to curate a special
"Cupcakes and Cashmere" box
for the month of May. It contains 10 of her favorite beauty products including
Shiseido Ultimune Power Infusing Concentrate
, $65, which Shuman says she wishes she could give to every woman she knows.
Here, Schuman answers some of our most pressing style and beauty questions and reveals just how her beauty routine has changed since recently becoming a mom. We're sure Beyoncé can relate.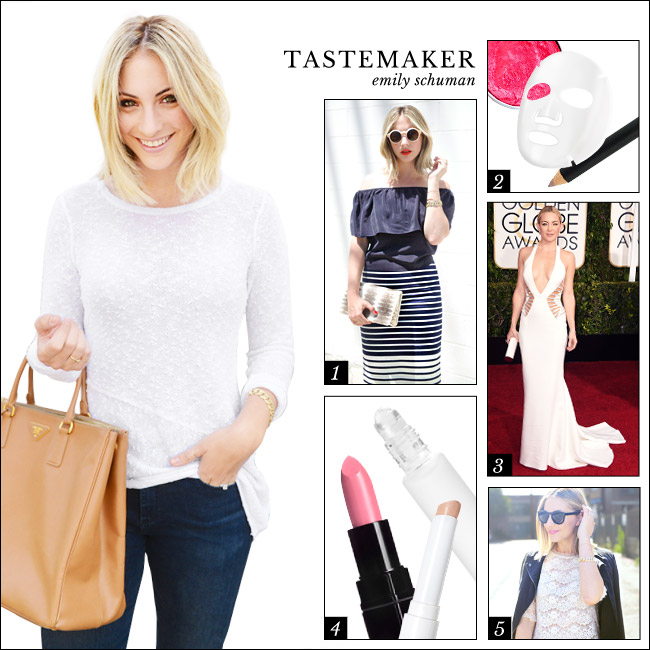 1) TotalBeauty:
Describe your personal style in 10 words or less.
Emily Schuman:
Well-made, classically feminine staples.
2) TB:
How did your beauty routine change when you became pregnant, and how has it changed since becoming a mom?
ES:
I was not feeling like myself when I was pregnant. I was tired, nauseated and miserable about 50 percent of the time. To that end, I actually leaned heavily into my beauty products to give me a boost when I was feeling low. A great sheet mask or fun lip was sometimes what I needed to feel better (along with a nap, of course).
Since becoming a mom, the time I spend on my beauty routine has dramatically decreased. If there is a multi-tasking product, I am on it. A two-in-one cheek and lip tint is a lifesaver. I use the same pencil for my brows and my eyes, and seek out the items that I know will save me time. I dyed my hair darker to be less high-maintenance. But, on the flipside, the three minutes that I get to put on some makeup seems much more indulgent now. It's nice to be reminded that I can find a little "me time" in something that I used to take for granted.
3) TB:
Who are your style and beauty icons?
ES:
I like stylish celebrities who seem comfortable in their skin. My favorites are Sarah Jessica Parker who accessorizes really well, Kate Hudson's minimalist but impactful red-carpet looks, and I love that Lupita Nyong'o takes risks.
4) TB:
What beauty essentials do you keep in your bag?
ES:
I keep a roll-on perfume, lipstick and concealer stick on me at all times.
5) TB:
What's the oldest item in your closet you refuse to throw out?
ES:
The most well-worn item in my closet will probably be a lace top that I've had for ages. The lace has ripped in places, but I feel confident when I have it on -- so much so that I even wore it on the cover of my new book, "Cupcakes and Cashmere at Home."