Beauty Tips
Study: Why We Hate Each Other's Sexy Selfies
New research reveals the less-than-shocking findings that we judge each other (harshly) by their profile pictures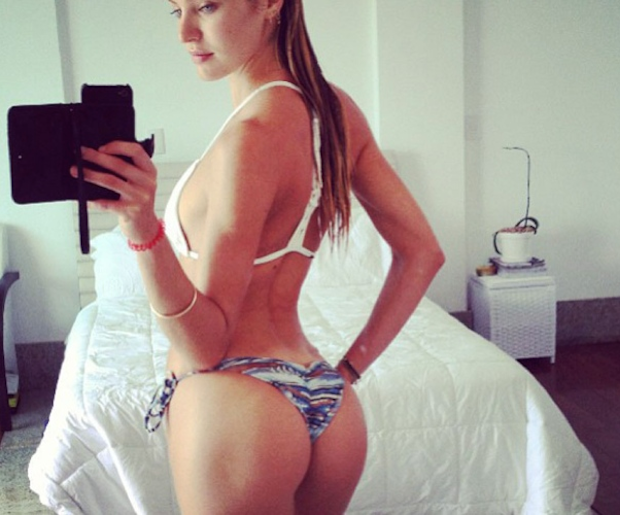 Finally took a sexy selfie that's good enough to earn the Kardashian stamp of approval? Super. Only, keep that thing to yourself and your s.o. because posting it to any of your social media accounts or, God forbid, using it as your profile photo will only make all your female friends hate you. So says new research from Oregon State University anyway.
A project conducted by assistant professor of psychology Elizabeth Daniels (who's tasked with understanding the relationship between the media and girls' body image), examined how we react to others' sexy selfies. And, guess what? We don't take to them kindly. In fact, that's an understatement.
To test the judgmental waters, Daniels created Facebook accounts for one fictitious "Amanda Johnson" using two diametrically different profile photos.
In one, "Mandy" was wearing a thing high, skin tight, cleavage-revealing red dress, in the other, "Amanda" was seen in a regular old tee shirt and jeans. Not surprisingly, of the 118 women polled, most gravitated towards boob-free Amanda and shunned Mandy in all her sluttiness.
"This is a clear indictment of sexy social media photos," Daniels said. "There is so much pressure on teen girls and young women to portray themselves as sexy, but sharing those sexy photos online may have more negative consequences than positive."
Here's how Daniels set up the "Amanda" project. The 118 women, 58 were teens aged 13-18, the others aged 17-25, were randomly given one of Amanda's profiles to look at and asked to rank her on things like perceived likability, competence and attractiveness. Note: the only differences in the info they saw was the profile image -- likes, interests, posts, etc. were identical for both versions.
"The non-sexy profile scored higher on every count, confirming that people always judge a book by its cover -- especially when that cover's a little scandalous," reports
The Daily Beast
. "Indeed, the biggest dip in the rankings was the response to the competency question, where participants were asked how capable Amanda seemed of being able to perform a task. Her risqué get-up obviously made it challenging for people to believe that she had any abilities at all."
Is any of this surprising? Of course not. But it is sad and does speak a lot to where we are as a society and to how meanly women treat other women based solely on their looks.
Daniels urges women to select their profile photos based on how well they reflect their "identity" -- a concept that seems like it's giving all too much weight to something as seemingly frivolous as choosing a FB photo. (Now, with LinkedIn or anything in the professional realm, it's clearly an entirely different ball of wax.)
As someone who typically swaps out hers a couple times a week, from pix of me with my kids, to ones from my carefree younger days to the rare good shot of me these days, I'm always mixing it up -- offering my close "friends" (all 700+ of them) an amalgamation -- a glimpse -- into all the different "Audrey Fines" that comprise the whole. Right now, I'm Eloise at the Plaza. Does that make people judge me or perceive me in a negative light? If so, I'm ok with that, my photos are a reflection of how I'm feeling -- isn't that the point?