Skin
Expert Solutions for Stretch Marks and Sagging Skin
There are things you can do.
Whether you've
just given birth
, lost or gained a significant amount of weight or frequently yo-yo diet, your skin can suffer. You've likely found that not only do you have stretch marks, but the quality of your skin has diminished.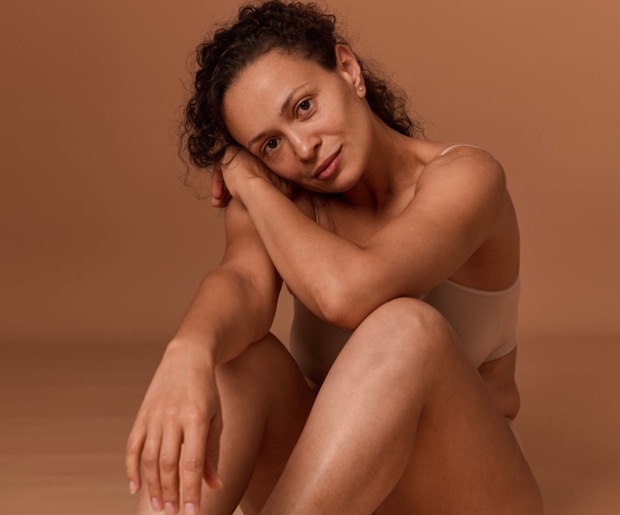 Image via Taras Grebinets/Getty Images
"Our bodies are woven together with a remarkable material called collagen," says
Dr. Ryan Neinstein
. "We have different types of collagen that perform a multitude of functions from strength to stretch within our skin. As we gain and lose weight, the types and amounts of these different types of collagen will change."
As we lose weight and the fat under the skin depletes improving our contour, the collagen which makes up the tightness in the skin contracts. As for stretch marks, they're actually a type of scar that forms when the skin is rapidly stretched beyond its capacity. "When these marks first appear, they tend to have a red or purple color, but eventually fade over time as the skin stops expanding," says
Dr. Dennis Gross
, founder of Dr. Dennis Gross Skincare.
Frequently fluctuating weight will have a severe impact on collagen and elastin in the skin. "Normal, healthy skin is able to stretch and then bounce back, but when the skin is constantly expanding and contracting, it takes a toll on the skin and damages the collagen and elastic fibers under the skin's surface," explains Gross. "When the fibers are damaged, they stop functioning as well as they used to, which can lead to more unwanted stretch marks and exaggerated loose, sagging skin."
So the million-dollar question is what can we do about it? For stretch marks, the answer is actually quite easy. Hydration!
"Hydration is the best defense because it brings more moisture to the skin's surface, making the skin more flexible and easier to stretch," Gross points out. "When the skin is moist and the lipid barrier is intact, the skin is less likely to tear when your body starts expanding. You can keep the skin hydrated by drinking lots of water throughout the day and applying topical hydrating serums to keep your skin soft and supple. Ideally ones that include barrier-repairing ingredients like squalane, ceramides, hyaluronic acid and vitamin E."
Other things that can help are collagen-stimulating serums that contain vitamin C. "Vitamin C works to brighten the skin, improve elasticity and help stimulate collagen production so it's very useful for women who are looking to improve their skin tone and texture," says Gross. He also recommends using a retinol at night to help stimulate collagen and elastin production and promote cell turnover bringing new skin cells to the surface.
If you aren't seeing results with over-the-counter topical remedies, there are more heavy duty in-office laser treatments. "In my practice, I use the Vbeam laser for treating stretch marks and saggy skin," says Gross. "This laser is noninvasive and helps to stimulate new skin generation while reducing redness and thinning of the skin."
Neinstein is also a big fan of Vbeam, especially in combination with fractioned skin resurfacing for collagen induction. "We've also found the radio frequency in our Emsculpt Neo can help give some resilience back to the skin. This is our first line for post-pregnancy because it's safe during breastfeeding and the muscle regeneration not only helps restore the core, but close the diastasis recti."
There are also surgical options.
"If the skin has a mild to moderate stretch, we can regenerate during a liposculpting procedure," says Neinstein. "We see the fibers tighten between the skin and the muscle, helping improve the tightness of the skin and we're now able to heat the collagen from under the skin hotter and safer than we could ever before. This causes the collagen, over time, to tighten almost like you were tightening an old shoelace knot."